Mazda will reveal a new concept sports car at the Tokyo motor show this month. That news in itself is rousing, but what's really got us excited is the prospect that it'll be powered by a rotary engine. 
Rotary engines (also known as Wankel engines) are special not just because of their physical differences with conventional piston units, but also because of the resulting characteristics. They're super revvy, ultra responsive and very smooth, and they also produce significantly more power per litre than mechanical-drag fighting piston engines.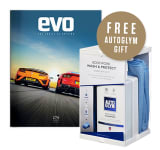 Subscribe to evo magazine
Subscribe today to our exclusive new offer and SAVE 39% on the shop price, get evo for its original cover price of £3.00 an issue, plus get a FREE gift worth £20!
Admittedly, rotary units tend to be thirstier and dirtier than piston engines, but if cleaned up, their better power-to-weight ratio makes them ideal for lightweight sports cars. 
So with the prospect of a new Mazda rotary sports car on the horizon, we thought it right to look back at key cars that have utilised rotary power. They're not all sports cars, and they're certainly not all perfect, but in one way or another they confirm that there's lots of potential left for rotary power.
Think we've missed a key rotary car off the list? Let us know in the comments section below.
Mazda RX-7 (third-generation)
Perhaps the most famous of them all – at least for millennials anyway – is the Mk3 Mazda RX-7. As a protagonist in racing games like Need for Speed and Grid, the car remained famous long after production ceased in 2002. But it was far more than just a virtual celebrity – it was a true drivers' car. 
Though it was endowed with a dinky 1.3-litre engine, the twin-rotor unit produced a healthy 252bhp, which, combined with the RX-7's skinny 1218kg kerb weight, ensured power-to-weight was rated at 210bhp/ton. Even Honda's latest turbocharged 2-litre Civic Type-R can only beat this by 16bhp/ton.
But there was more. Because the RX-7's engine was so small, it could be located right up against the bulkhead under the bonnet – in what we call a front-mid mounted layout – helping to give the car its near perfect 50:50 weight distribution. And the results made for an incredibly agile chassis, which combined with the car's rev-hungry rotary engine, formed a highly engaging a rewarding package.
Today, the car is remembered as a cult hero. And though it's true that the RX-7's rotary engine can need a rebuild in as little as 60,000 miles (worn rotor tips are the main cause), a well looked after RX-7 certainly makes for an enticing prospect – hence why many used cars are now selling for more than £10,000.
Citroën GS Birotor
From one of the most famous rotary engined cars to perhaps one of the best forgotten, the Citroën GS Birotor was nearly exterminated from existence not long after it made its debut. Based on the regular GS, the Birotor featured a twin-rotor unit of 995cc that produced a respectable 106bhp.
That was a significant 40bhp more than the regular GS's most powerful piston unit, and combined with the rotary's smoother power delivery, should have made the GS Birotor a better all-round drive. It was also a higher quality product than the standard GS, with disc brakes all-round and a more luxurious interior.
The only real negative for the Birotor came in the form of poor fuel economy. And though this might have been a rather small negative just a few months earlier, the car's October 1973 launch unfortunately coincided with the 1973 Oil Crisis. 
As fuel prices rocketed and buyers became increasingly motivated to buy fuel efficient cars, the Birotor sold in tiny numbers – just 847 were sold before Citroën pulled the plug on the model altogether. And the French carmaker even tried to buy back all of these cars to destroy them, so that it didn't have to support the model with spare parts in the future. As a result, very few GS Birotors survive today.
Audi A1 e-tron concept
The Audi A1 e-tron is unique on this list not just because it's a comparably new car, but because its rotary engine doesn't actually drive the wheels. Like its name suggests, the A1 e-tron is powered by an electric motor that produces 101bhp. But in order to extend the maximum range the car's 12kWh battery can provide, a single-rotor engine is used to top up charge. 
As a result, the rotary unit displaces just 254cc, and only starts up when the battery's charge is low. This type of range-extending system isn't a particularly new one, but the less conventional use of a rotary engine does bring many benefits.
The first is that the higher output per litre of a rotary unit compared with a piston equivalent means a smaller, lighter engine can be used. This betters the car's overall power-to-weight ratio, with resulting benefits including increased range and boosted efficiency.
Another benefit is that the issues usually associated with rotary engines – poor fuel economy and higher emissions – can largely be countered. A range extending rotary only has to work within a very narrow window of revs, making it far easier to optimise its performance – something that cannot be done when the engine is required to work from tick-over to its maximum revs. 
Though the A1 e-tron concept never made production, it does at least prove that the rotary engine could also play a part in future car powertrains.
Mazda Eunos Cosmo
The 1990 Eunos Cosmo was a spiritual successor to the Cosmo, Mazda's first mass-produced rotary-engined car from 1967. But unlike the twin-rotor 60s car, the Eunos Cosmo was available with a three-rotor engine.
With the help of twin turbochargers, the 1962cc unit produced 295bhp and 297lb ft of torque – a lot even by today's standards. And the Cosmo was fast too – Mazda claimed it could spring from 0 to 62mph in just 6.2sec.
In fact, the Eunos Cosmo earned the title of the most powerful mass produced rotary-engined car, and as such it played the role of Mazda halo car for five years. Even today, it's still revered as being one of the best Japanese cars to offer supercar-threatening performance in a relatively practical saloon package. 
Unsurprisingly, the car's powerful, high-revving engine has made it popular car modifiers and drifters. But thanks to having never been officially sold in the UK (though several were imported), the triple-rotor car is particularly rare.
NSU Ro 80
Even in 2015, extracting over 100bhp from a naturally aspirated 1-litre piston engine is no easy feat – Ford's most potent current 1-litre EcoBoost engine relies on turbocharging to produce its 138bhp, and the atmospheric 1-litre engine of the Skoda Citigo can only manage a maximum of 74bhp.
But back in 1967, rotary engine technology had already reached a point where less than a litre was required to produce 100bhp. And a good, mass produced example of this came with the 114bhp twin-rotor engine of NSU's Ro 80. 
The car was far more than just its engine however – the whole package was in many ways several years ahead of its time. All-round disc brakes, a vacuum-operated semi-automatic transmission and a three-box exterior design meant the car was arguably better aligned both technically and aesthetically with cars from the next decade. In fact it was so advanced, that over its 10-year production life span, the car changed very little. 
But it was far from a perfect story. Though the rotary units produced good power, engine rebuilds were required after as little as 30,000 miles. And even after development work later in the model's life significantly improved the issue, the Ro 80's image had already been damaged. Production ceased after 37,398 units, and ultimately, it helped plunge NSU into deep financial crisis.
Mazda 787B
Talk about saving the best for last. The Mazda 787B comes from one of sports car racing's most extreme periods – a time when Group C racers headed the Le Mans field, racing at speeds of over 240mph. And like the rest of the cars on this list, the Mazda 787B was unique in its class because it was powered by a rotary engine.
The car's 2.6-litre four-rotor unit produced 697bhp at 9000rpm and 448lb ft of torque at 6500rpm in race-trim (Mazda claims 845bhp could be produced in qualifying-spec), ensuring the engine's power-to-weight ratio was substantially better than its larger engined competitors. 
Even so, rivals like Mercedes' twin-turbo V8 C11 were faster over one lap, but interestingly, the 787B's naturally aspirated rotary unit bucked the trend set elsewhere in this list by being remarkably reliable. This enabled it to beat all odds and win the 1991 Le Mans 24 Hours, with Johnny Herbert, Volker Weidler, and Bertrand Gachot as drivers. 
Rotary engines were subsequently banned from Le Mans, meaning the 787B would remain the only non-piston engined car to win the race. But the 787B's high-pitched exhaust note has certainly not been forgotten – it's one of the most distinctive racing car engines to ever grace the Circuit de la Sarthe and one that still raises neck hairs to this day (you can hear it on the video below).