The behind closed doors world of McLaren P1 GTR ownership is a mystery to all but a select few. A limited run of an already exclusive vehicle, the keys to a GTR were only offered up if you already owned a road-legal P1.
Given the asking price of £1.98 million - a whole £1 million more than the standard P1 - McLaren were going to have to make the ownership proposition pretty special indeed. The P1's performance figures were already outrageous, so instead the GTR was pitched as a window into the life of a racing driver.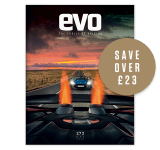 Subscribe to evo magazine
Subscribe today to have every issue of evo delivered straight to you. You'll SAVE 39% on the shop price, and get evo for its original cover price for a whole year!
Buy a car and owners are treated to access to the best racetracks in the world, their car waiting for them when they arrived and the full gamut of engineers, physios, tyres and fuel that a conventional race team might require. Fourth in the P1 GTR 'season' was Silverstone and a two days of open pit lane access for GTR owners. evo was on hand to witness it.
It's quite the sight seeing 14 GTRs all in their own MSO-spec liveries. As pit lanes go, it's right up there with N24 and Le Mans for the sheer carbon-fibre filled awesomeness of it all. As for the P1 GTR itself, it looks just as amazing now as it did when McLaren first unveiled it. 
Before owners take to the track they cycle it with their driving coach. Why exactly? Well walking or cycling a circuit is a great way to get an idea of the undulations and details of a track at a more manageable speed. The coach will take the owners through braking zones and the racing line before heading back to the pits. In my case, a brief ride with Bruno Senna (yes he was on hand to offer tips to owners) revealed that he wasn't particularly good at wheelies and he was a lot fitter than me.
Specialized has had a long standing partnership with McLaren, helping build the ultra-lightweight £16,000 McLaren S-Works Tarmac. Owners here use Sirrus Elite Carbon bikes, complete with their names etched into the frame, a-la-F1 drivers. At £1300 they're a pinch compared to the full-fat Tarmac, but one was on display, finished in McLaren orange no less, should GTR owners be tempted.
After that, owners can spend time with a sports fitness expert, have a sports massage, or sit with their driving coach and go over telemtry and video all recorded by the GTR's in built data capture systems.
I spent some time with McLaren Special Operations (the part of McLaren responsible for GTR ownership) executive director Paul MacKenzie and he outlined a lot of what the GTR programme was about. 
>Watch evo track car of the year
"What we wanted was to make it authentic. It needed to be a true to life motorsport experience. The car itself is very authentic, but the rest needed to be right too. We go to the right circuits and we try to keep the coaches and engineers the same throughout, so drivers build up a relationship with their team."
"Part of the programme is actually open access to the simulator at McLaren. Some owners come in and spend some time in the simulator to practice. Actually the limit of these people is their availability. What is great however is when they're here, they're here. You don't see many stood on their mobile phones".
It certainly seemed that way. There was 650S Sprints on track, a McLaren F1 GTR and numerous P1 GTRs all on circuit.
McLaren's P1 GTR driver programme also sees the likes of Bruno Senna and other real-world racing drivers set target lap times for owners. Understandably they aren't driving at the absolute limit, but given some owners were within 0.2 sec of Senna's time, most clearly mean business.
Before Bruno went out and set his times I was treated to a gloves-off set of laps in the P1 GTR. Just before we set off, I asked Bruno about if the GTR had any turbo-lag, with him quickly responding by saying "absolutely not, you will see when we get on track".
He wasn't joking. The sheer thrust of 987bhp through sticky Pirelli tyres was unbelievable. In many ways the standard P1's performance was limited simply by how much traction and grip road tyres can offer, but here in slick-shod GTR form, the car just stuck itself to the ground and catapulted us off out the pit lane.
After that, Silverstone was a bit of a blur really. The GTR is clearly a more friendly car than a full-fat GTE racer, simply because most of its owners won't want knife-edge handling. Bruno was keen to demonstrate its monstrous braking performance, but also how adjustable and forgiving the car was under big throttle loads. It felt playful, but fast, in a way that I imagine owners would be able to learn the limits of without being massively bitten, like you might be in a more edgy race car.
A few laps later and my time in the GTR was over. What I took away from the day was that P1 GTR ownership was like having a golden ticket to the most unbelievable track day ever. McLaren has clearly worked hard to take the intimidation out of a near 1000bhp car on slicks, with the race driver-lite experience likely being confidence building rather than frightening.
Above all else though, the car itself is what stood out. Performance was on a scale that I've not experienced before, but even from the passengers seat, it was the sheer drama of the whole thing, waste-gate chatter and all, that I won't forget in a hurry. That and Bruno Senna late braking into Stowe corner at 290kmh+.