Mazda RX-7 FD
The keen-eyed will recognise this car from issue 226 of evo magazine, where it was driven by Dickie Meaden. He concluded that 'two decades of rampant engineering progress and sky-rocketing performance mean Mazda's flagship sports car is no longer the force it was back in 1993', but also concluded that it was 'a thoroughly charming, fascinating, intriguing and usefully rapid car.'
It's hard to disagree. This 1994 car is an original UK example, making 237bhp at 6500rpm and 218lb ft at 5000rpm, though the peak torque figure is a little misleading as power starts to swell much earlier. It's an honest, mechanically restored but well patinated car, with squishy leather seats and an absurdly large standard steering wheel, and a great example of why these cars are held in such high regard.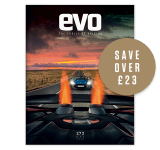 Subscribe to evo magazine
Subscribe today to have every issue of evo delivered straight to you. You'll SAVE 39% on the shop price, and get evo for its original cover price for a whole year!
Firstly, the third-generation RX-7 remains a genuinely beautiful shape. The rear wing is a little awkward but the basic proportions and details are slick and striking, the full-width rear light panel with its hidden round tail lights a real highlight. The cabin feels cosy, and the cheap black plastics are more charming than such a description gives them credit.
The smoothness of the 13B-REW engine is always apparent, but the aftermarket exhaust on this car hides some of its inherent refinement. It's not overly loud though and pops and crackles amusingly on the overrun, while the brake and throttle pedals are ideally sited for heel-and-toe. Neat handling, too – this is a well-balanced car, and exactly the kind of vehicle we're hoping Mazda produces when it eventually gets around to putting Wankel engines back into production.
Mazda RX-7 FD Bathurst R
One of the last ever RX-7s produced, the Bathurst R builds on the standard car's talents. This one hails from 2002 – a year before it was replaced by the RX-8 – and despite the addition of some aftermarket alloy wheels (or perhaps because of them, depending on your taste) it's perhaps the RX-7 at its most striking too.
The low front splitter and larger rear wing balance out the shape perfectly and "innocent blue" has always suited the FD-generation cars. Inside it's a little tidier too – the cream dials and Mazdaspeed gearknob are an acquired taste, but the Nardi airbag wheel is nicer to hold (and better positioned) than that of the regular car, and the Mazdaspeed reclining buckets put you in the perfect driving position.
The engine is the real star though, as it should be. It feels much the same as the standard RX-7 up to about 4500-5000rpm, at which point all hell breaks loose. This is turbocharging à la VTEC – no lag, so much as a step-change in the boost and a further lunge for the horizon. This is quick in a modern context, not just by 2002 standards.
With its large wheels and wide tyres the steering isn't as sweet as the 1994 car, but it's a little more responsive to inputs. There's less roll too and a firmer, but well-controlled ride. There are a few rattles here and there, but it feels more serious and more modern. Of the two, this is the car that has had me scanning the classifieds hoping in vain for a bargain.
Mazda RX-8
The Mazda RX-8 has always lived slightly in the shadow of the RX-7. Not as pretty, not ultimately as quick with natural aspiration instead of turbocharging, and sullied not by modification but by its own success: the used market is littered with ropey cars with tired engines, owned by people who don't understand the rotary's quirks, and in desperate need of specialist attention.
That success has a benefit, though. It makes the RX-8 by far the most accessible car of our sextet and, having tried this car – an immaculate special edition celebrating 40 years of the rotary engine back in 2007 – the temptation is very strong to find an equally nice example for a ridiculously low price.
Much like the Cosmo, the RX-8's closest parallel can be drawn with an MX-5. Specifically, the NC, third-generation car, with which the RX-8 shares much of its underpinnings. And doesn't a four-door, rotary-powered MX-5 sound like an inviting recipe? The comfortable, sharply-styled cabin, the suprising practicality and civilised road manners all contribute to an appealing package.
And again, the engine is the highlight. No, it's not particularly torquey and you do need to rev it, but when it spins to 9000rpm like an electric motor and has the strident note of a jet airliner throttling up for takeoff, does that really matter? The (lack of) economy might, but driven as an occasional toy – as you might an MX-5 – that wouldn't be as much of an issue. That you can buy the absolute best for no more than £5k is the cherry on top.