Car shampoo: everything you need to know and the best car shampoos 2022
Shampoo specially for your car? It might sound like overkill, but there's a good reason why professional detailers swear by it.
Much of the enjoyment associated with car ownership is rooted in aesthetic appreciation. Catching a quick glimpse of your pride and joy, through the curtains of your front room, often warms the cockles, especially when its gleaming and glistening, freshly washed, sitting in the sun. To achieve this pristine post-wash state you need to use the best car shampoos.
Here we give you the lowdown on the car shampoos and what, why and how to use them. Read onto the second page and we'll also list the shampoos currently available and which are our favourites.
What is it?
A carefully crafted mixture of chemicals, dyes, fragrances and preservatives in an aqueous solution specifically designed to clean your car effectively without damaging the paintwork.
Do I really need to use it?
If you want your car to retain that showroom shine, then yes. Dirt, traffic film, bird lime – all these can damage your paintwork and need to be gently removed.
Can't I just use washing-up liquid?
No. It's good for plates, less so for paintwork. It has a high salt content and will strip away the layers of wax and polish that are protecting your car.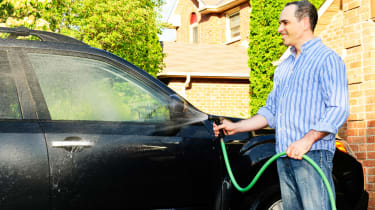 How does it work?
While the main ingredient in car shampoo is water, the important active ingredients are known as 'surfactants'. These are molecules with one end that attaches to water and another attracted to dirt, and they lower the surface tension between the two. The dirt can then be rinsed away with the assistance of a wash mitt.
Why use a wash mitt?
Most of the sponges we typically use have a flat surface that cannot absorb the dirt particles. This means the dirt is dragged across the paint, which can cause micro-scratches – the dreaded 'swirl marks'. A lambswool or sheepskin wash mitt, meanwhile, will absorb the dirt in its pile, keeping it away from the car's bodywork.
What's the best way to use car shampoo?
Try not to wash your car in direct sunlight, and rinse it first. Wash from the top down, too, rinsing as you go if the shampoo seems to be drying. It's also important to use the two-bucket method – one bucket for the clean shampoo, one with plain water to rinse the wash mitt. Ideally both buckets should have grit guards to prevent dirt going back onto the car.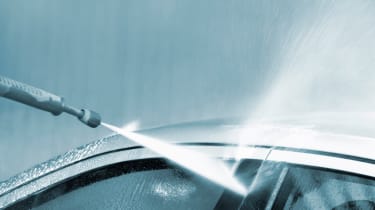 I've read about pH-neutral shampoos; what's that about?
A pH-neutral shampoo won't attack protective polishes or waxes that are already on the surface of the car's paint. The vast majority of shampoos on the market are pH neutral.
Why are some shampoos very foamy, others less so?
It all depends on the formulation of the shampoo. Those that generate greater amounts of foam tend to contain more surfactants. Those with less foam, meanwhile, generally leave a better 'sheeting' effect, which allows water to satisfyingly run off the paintwork.
Does a shampoo also need to have a wax in it?
Shampoo doesn't have to have a wax element, but if you're only an occasional washer and aren't keen on polishing then a shampoo that adds a layer of wax to the paint would be a good choice. If an afternoon of polishing is your idea of nirvana, then it's not necessary.
How much should car shampoo cost?
Different shampoos need diluting in different measures, so a small, expensive bottle could offer better value than a larger, cheaper one. As for cost per wash, decent shampoos start at around 15p.