Car wax – the 10 best products and everything you need to know
A quality detailing product is key to protecting your paintwork and retaining its shine, but which waxes are best and how do they work?
Keeping your car's factory-fresh paint-sheen isn't easy. Maintaining it requires regular applications of wax and/or polish following a careful hand wash, so we're looking at the best car waxes to buy now.
The market for car detailing products is huge, ranging from the super-cheap to super-expensive substances laced with refined natural fruit oils, beeswax or even gold. To save you the trouble of choosing the right wax, we've compiled a list of the best products to keep your car in fine fettle. Carry on reading below for a basic guide on the technique for waxing your car, or skip to page 2 for our product rundown.
What is it?
'Wax' typically refers to a hard hydrocarbon substance that comes from a natural source – such as the carnauba plant or palm trees – or is made synthetically from silicones. In order to be useful as an automotive protectant, solvents and oils are added to the mix to make a more pliable product.
What's the difference between a wax and a polish?
Polish is used to remove defects from a car's clear coat while wax is designed to protect the polished clear coat – see last issue's 'All you need to know about…' for more information on polishes.
> Car polish - everything you need to know 
Do I really need to use it?
If you like shiny, gloss-looking paintwork, yes. A well applied wax will also protect against damage to the clear coat such as water marks, acid rain, bird lime and fine scratches.
I keep seeing the word 'carnauba'… what is it?
The most popular wax for use in the automotive industry is carnauba, which comes from the leaves of the palm Copernicia prunifera, native to and grown only in north-eastern Brazil. It's perfect for automotive uses as it's virtually insoluble in water (meaning it doesn't easily wash away), has a high melting point (so shouldn't turn runny in sunlight) and provides a durable and glossy finish.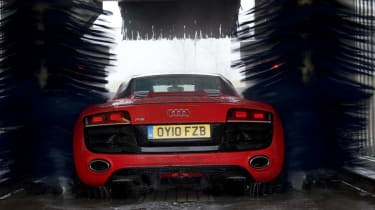 So what about synthetic waxes?
Typically available in liquid form, these contain man-made polymers or resins rather than the more natural ingredients of a conventional wax. These ingredients mean that 'sealants', as synthetic waxes are known, tend to last longer than a natural wax.
Do different cars need different waxes?
A new car should require less waxing than an old one, and it would generally be better to use a sealant than a wax on a showroom-fresh machine. Cars that have lost their showroom shine will benefit most from a polishing and waxing session. Lighter-coloured vehicles may respond better to synthetic waxes, darker ones will look better with a natural wax finish.
How to use car wax
First off, you need to wash the car. To take proper effect, waxes must be applied to a clean surface free of any grime, dirt and grit. Grab a hose, or jetwash if you have one, and spray the whole car to remove obvious and loose muck. Once you've rinsed the car, get a bucket of water mixed with car shampoo and grab a sponge.
Each time to delve back into the bucket with your sponge as you're shampooing the car, grit particles accumulate, so we recommend using a bucket with a grid in the bottom. It traps grit from the sponge that has been lifted from the car, and thus prevents it from being dragged back across the paintwork, avoiding scratch damage each time you lather the surface.
Plenty of people go on to clay the paintwork after a wash, although it's not always necessary. Wrap the tip of your finger in a plastic bag and run it along the paintwork. If it feels like sandpaper, it's time to clay the car.
Now that your car is (hopefully) spotless, you can get on with waxing. There are several kinds of car wax – spray, liquid and paste are the main three, and differ in means of application. Spray wax is the easiest of the lot. Spray it on, apply it with a microfiber towel and then flip the towel to buff it – it's that simple. It's best to apply in the shade, and work a panel at a time. Once you've waxed the whole car, grab a fresh cloth and give it another wipe over for the best results.
Liquid and paste waxes are also best applied a panel at a time in a shaded area. Read the instructions first, as different manufacturers may recommend different application methods, but generally use a foam applicator pad and rub it in well using a back-and-forth motion. Then you can buff it out.
After waxing, your car's paint should look clean, slick and smooth – as good as it did on the day the car was first made! Of course, waxing can't cover up damage to the paint. If you have swirls or scuffs in your paintwork, you need to polish before you wax.
How often do I need to use it?
This depends on car use and your car cleaning regime, but generally speaking a natural wax will need to be applied every two to three months for a vehicle in everyday use or two to three times a year if using a synthetic wax.
Pastes, liquids, sprays – which is best?
All will provide a good finish but pastes tend to be harder and more time-consuming to apply. Liquids are easier, while sprays will be the quickest to use but generally have the least long-lasting results. Ultimately results will depend on the quality of the polished clear coat and how much effort you put in.
Our favourite cars of 2017 - the new cars we loved most
Can I just use a shampoo with wax in it?
Yes you can, but the results will be less impressive. These are best used when washing in between periodic wax applications.
How much does wax cost?
Prices vary enormously but high cost doesn't necessarily equate to most effective. Wax starts at around £5 for a tin to several thousand pounds for bespoke high-end products.
Now continue on to page 2 for our top 10 car waxes...