A couple of hundred yards into my first run in the Gumpert Apollo, I realise I've done this all wrong. It's not yet 10am and I have effectively got up, scoffed breakfast and lined up on the start line at the Brighton Speed Trials in a near-700bhp supercar. I am totally unprepared.
In first gear the Apollo scrabbles for traction on the shiny asphalt, twin-turbo V8 whirring at half-throttle, forward movement frustratingly slow. The arc of shift lights set into the steering wheel gradually becomes a rainbow, I tug the tall sequential gearlever back and – oh, come on! – the engine is bap-bap-bap-ing off the limiter. It takes a long moment to register that it's not due to wheelspin but because I haven't pulled the lever hard enough – although the digital display is showing a big red '2', I've managed to find a big fat neutral. This isn't going well, and it's about to get worse.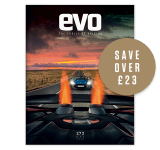 Subscribe to evo magazine
Subscribe today to have every issue of evo delivered straight to you. You'll SAVE 39% on the shop price, and get evo for its original cover price for a whole year!
A firmer tug on the lever finds second gear proper, but there's still precious little traction. Shift lights twinkle again, I pull the lever for third gear and, finally, the Apollo's massive rear tyres hook up and all of the V8's staggering 675lb ft is gainfully employed.
It's as if the car has been straining against a huge bungee rope tethered to the start line, and at the moment third gear goes home this restraint is severed, as if by a single, clean axe blow. My initial thought is something like: 'About time! Now everyone will see what this strange-looking supercar can do.' And for a few seconds they do. Trouble is, the acceleration is so sudden and so intense that I… am… going… dizzy. My head feels strangely floaty, as if only loosely connected to my body at the neck. I'm trying to lock my gaze on the finish-line banner, willing myself to find a hard spot, sure that if I do all will be well. But I can't.
The last time I felt like this was at school in a science lesson experiment when I managed to hold my breath longer than anyone else – before passing out and falling backwards off my lab stool. I'm experiencing that same sense of gravity-skewing now, but this time I can stop it. I back off, we slow down… but the wooziness persists, so I brake a little, and then we cross the line. Phew.
Sitting safely in the muster area I'm beset by a range of emotions. Boy, do I feel silly. Slightly bemused too, and annoyed to have let the Gumpert lads down. That's the one and only practice run gone; just the two timed runs left. Not a dream drive so far, then…
IT'S AN ODD BUT wonderfully appealing event, the Brighton Speed Trials. Come to the seaside, buy an ice cream and have a balls-out blast along the prom. For over 100 years the Brighton and Hove Motor Club has run this event on Madeira Drive, the road that heads east from the Palace Pier, straight and level(‑ish) for over half a mile. On this unexpectedly hot, sunny September Saturday an estimated 20,000 will throng the venue, and there are getting on for 200 cars and 100 motorbikes to entertain them, some weird, some wonderful, including a 1903 Humberette, a Bentley Turbo that looks vandalised more than modified and a tiny race car called a Monaco that looks as if it has been built out of a tin bath by Qualcast.
Now, the Gumpert is not the best-looking car in the world, but from the moment it rolled out of its trailer at 7.30 this morning it has been surrounded by people keen to get a closer look. The Apollo impressed the pants off me when it set a fantastic sub-1min 20sec lap around Bedford's West Circuit earlier in the year (evo 119) and I'd been looking for an excuse to get behind the wheel again ever since.
Andrew Ward at Racetech UK, importers of the Gumpert, liked the idea too, but as is often the case with stories like this, everything was last minute – with just days to go, the company's demo car was partly dismantled and in the paint-shop following its appearance on Top Gear. All the stops were pulled out, though, and yesterday afternoon Racetech's Barry Mulgrew set off from Manchester. He arrived in Brighton at 1.30 this morning after the trailer suffered two punctures…
There was no little pressure to perform, then, to make it worth Racetech's while and to show the pace of one of the world's fastest production cars. With almost 700bhp from its totally re-engineered Audi 4.2-litre V8, the Apollo would be one of the most powerful cars here, and I imagined it would be pretty quick given its claimed 0-60 time of 3sec dead and top speed of 224mph.
I'd already checked out the opposition in Class 4 – for 'road-going and modified production cars over 3500cc' – and fancied the Apollo's chances against the TVRs and Vipers and the Ferrari F50. However, the clerk of the course said simply, 'Gumpert. They haven't made many, have they? Class 8.' And so we found ourselves in the class for 'Sports Libre cars over 1600cc', which included a pack of GTD 40s, a Radical SR8, a Spa Judd, a Ford Puma XTRAC and the long-serving and thumpingly effective 7.4-litre Allard J2 of James Tiller.
Got my work cut out, then. Not half, reckoned Tony Gilham, Racetech's preferred demo driver for the Apollo, who had popped along to offer the benefit of his experience. On hearing that you're expected to give it the beans after having driven just the few yards from your numbered parking slot to the start line, Tony said, 'It's going to be a nightmare in first and second – it takes about ten starts to get enough heat into the tyres.' You can do a burn-out in the 'funnel' that leads to the line, but Tony reckoned just one would make no difference at all. 'Dial the traction control up to 20 per cent slip, get the revs up to 3500rpm, ease the clutch in and don't give it full throttle in first, maybe second too,' was his advice.
He was spot-on. The lack of grip was revealed when I rolled into the funnel for the practice run and gave the Apollo a stab of throttle – the rear tyres span up easily. As for the practice run itself, well, you know how that went.
Funny thing was, even though I was braking as I crossed the line – hence the terminal speed of just 74mph – the Apollo had recorded 14.83sec for the quarter mile, which made it faster than five other cars in the class. Best, and the overall pace-setter, was the Ford Puma, a spaceframed silhouette car with an angry Cosworth turbo engine and four-wheel drive, which managed 10.02sec and 127mph.
After my practice run, photographer Dave Shepherd joked that we should have a fight just before my first timed run to get the adrenalin pumping, but by the time the Class 8 cars are called for their first competitive runs the thought of a repeat of the practice run has got the old ticker racing more than enough. The Apollo is inched into place behind the timing beam by the white-coated marshals, the red light goes green and I build the revs up calmly to 3500rpm. I let the clutch in gently, there's a whirring noise as the rear tyres rotate and we're off – just as slowly as the first time.
Very positive tug of the tall gearlever into second. Still not much drive but we're picking up speed now. Upshift to third and – yes! – we have warp drive. I'm ready for it this time, and although the shove feels monstrous I'm on top of it. Come on… Woah! Correct a small slide at the top-end of third gear, pull fourth and now the finish-line banner is looming… and we're there. Job done. And breathe.
It's a much better run – 12.41sec at 119mph – but the VBOX test gear I've fitted confirms that the getaway's still a problem: 0-60mph has taken 4.9sec, way off what it's capable of. Everything else here seems to get off the line like it's surfaced with emery cloth, but we just sit there, like the tyres are woolly socks and the surface is polished parquet.
'I'll do a burn-out to get at least some heat into the rubber,' I tell Barry before the last run. My plan is to rush through the gearshifts too, with only a part-throttle lift to keep the boost up (there was a noticeable lull from second to third and third to fourth). I'm hoping that altogether this should put us in the 11-second bracket.
I follow Tiller's orange Allard up the funnel. Traction control is off. I dial up 3500rpm or so, drop the clutch and the fat rear tyres spin up nicely. Good one. Another before the line should build a little heat. The Allard lurches violently, pitching heavily onto its right-rear tyre, and is gone. I give the Apollo some revs again, drop the clutch and sense a small pop at the rear, as if it has jumped out of gear. I pull the gearlever again and ease the clutch in, but we don't move. A marshal beckons me forward. I go back to neutral, pull first and try again, but I already know that something in the drivetrain has failed. It's game over. Barry has a look. 'The Stig did one driveshaft and you've done the other,' he says. In fact, it turns out to be a hub failure, the result of an old stress fracture.
It's a disappointing end to an educational day. If the Speed Trials ran over a half-mile, as they have in the past, the Gumpert would have stood a much better chance. As it is, our time of 12.41sec puts us 10th in Class 8 and would have seen us 6th in Class 4, just ahead of the F50. Fastest car of the day was Mike Endean's XTRAC Puma, which popped, banged and swerved its way to a 9.96sec/135mph quarter. I reckon with a pair of super-sticky Hoosiers on the back the Gumpert could give it a run for its money. This is unfinished business.
evo10 moments
And yet driving a double-decker bus around the West Circuit at the Bedford Autodrome looms (appropriately) large too, partly because it was the fulfilment of a long-held ambition. My parents didn't have a car when I was little so I knew what a bus was before my interest in cars took hold. Stepping aboard the Leyland Olympian brought memories flooding back, and it was a joy to discover that it was a wonderful piece of engineering. It handled nicely, too. Flat through Tower at 50mph, 10-litre in-line six growling, inside-rear wheel gently hopping and over-speeding – and all the idiots who went upstairs screaming like girls. Priceless. John Barker
Specifications
| | |
| --- | --- |
| Engine  | V8, biturbo |
| Location | Mid, longitudinal |
| Displacement | 4163cc |
| Cylinder block | Aluminium alloy |
| Cylinder head  | Aluminium alloy, dohc per bank, 5v per cylinder, variable valve timing |
| Fuel and Ignition  | ME 7.1.1 engine management, sequential multipoint injection |
| Max power | 690bhp @ 6300rpm |
| Max Torque  | 675lb ft @ 4000rpm |
| Transmission  | Sequential six-speed manual, four-wheel drive, Torsen diff, ASR, TC |
| Front suspension  | Double wishbones, coil springs, pushrods with horizontal dampers, anti-roll bars |
| Rear suspension | Double wishbones, coil springs, pushrods with horizontal dampers, anti-roll bars |
| Brakes  | 378mm vented and grooved discs front and rear |
| Tyres | 255/35 ZR19 fr, 345/35 ZR19 rear |
| Weight (kerb) | 1200kg |
| Power-to-weight  | 584bhp/ton |
| 0-62mph | 3.0sec (claimed) |
| Top speed  | 224mph (claimed) |
| Basic price  | £275,000 |
| evo rating | 4.5/5 |