Scroll down for Part 2...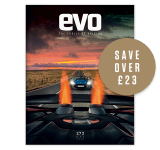 Subscribe to evo magazine
Subscribe today to have every issue of evo delivered straight to you. You'll SAVE 39% on the shop price, and get evo for its original cover price for a whole year!
Today, manufacturers are being tempted back into frontline motorsport by new rules that favour cost-cutting over innovation and technical freedom. The result is the impending death of the genuine homologation special – the pure-of-purpose, limited-production road racer – threatened with extinction by race and rally cars based on mass production vehicles fitted with motorsport kits and common 'control' components such as gearboxes and brakes.
Back in the early 1980s, dwindling manufacturer presence was similarly affecting motorsport, but a wildly opposing solution was proffered. A new set of regulations was written which positively encouraged the use of emerging (and expensive) F1 technologies such as turbocharging and carbonfibre-composite construction. Conspicuous by their absence in these new regulations were any kind of weight or power limits. The name of this new category? Group B.
Group B's purpose was to appeal to those manufacturers who would be lured by the engineering challenge of building the ultimate car and then competing against, and beating, other manufacturers' ultimate cars. It was a masterstroke by the rule makers, creating an irresistible game of one-upmanship that no manufacturer worth its motorsport pedigree could ignore. After all, to win in Group B was to effectively proclaim 'our best is better than your best'.
Porsche and Ferrari were among the first to sign up. Intriguingly, neither was particularly motivated by Group B rallying – it was on the track that they expected their Group B machines to shine. For Ferrari, with its race-car-optimised mid engine and rear-wheel drive layout, this made sense; less so for Porsche and its torque-shifting four-wheel-drive system, anti-lock brakes and advanced suspension. In the early '80s, however, Porsche believed its road cars benefited more from lessons learned on track than on the stages.
Not that there would be much chance for this to happen. After a lack of interest from other manufacturers led to the planned Group B circuit racing series being cancelled, the 959 competed in a mere three races (as the 961) and three rallies. The GTO, meanwhile, did not race or rally at all.
The Ferrari GTO – you won't find the often-quoted '288' designation anywhere on the car – was Maranello's fastest and most powerful road car when it was unveiled at the 1984 Geneva motor show. Designed by the legendary Leonardo Fioravante at Pininfarina (previous credits: Ferrari Daytona and 308 GTB), the GTO was based on a loose brief from Enzo himself to develop the 308 into a competition car for Group B. Pininfarina had been down this path before with the 308, having designed the one-off 308 GTB4 prototype in 1977, inspired by the FIA's Group 4 regulations (superseded by Group B). The GTB4 had therefore debuted many of the styling features subsequently applied to the GTO, including wider wheelarches to accept bigger wheels, extra driving lights and a kicked-up rear spoiler.
Ferrari's biggest brain in its F1 department, Dr Harvey Postlethwaite, was called in to lend his materials science expertise and the engineering team went about shifting the engine position from transverse to longitudinal and fitting the twin Japanese-made IHI turbochargers to the sleeved-down 2855cc V8 engine (Group B rules dictated that any turbocharged engine must not exceed a theoretical capacity of 4 litres, determined by the engine cc multiplied by 1.4). All said, the GTO produced 400bhp and 366lb ft, enough to make it the first production car to exceed 300kph (186mph).
Despite two fewer cylinders, the 959's 2849cc flat-six engine delivered more power and torque: 444bhp and 369lb ft. A sequentially activated turbo system was fitted to reduce lag (single turbo at low revs, both at higher revs), as was a new four-valve head that used a water-cooling system like the 935 racing car before it. With titanium conrods and double-row cam chains, the result was an engine that could easily cope with the maximum boost pressure of 14psi and an 8000rpm rev limit. Indeed, it is thought the 959's engine can comfortably exceed the imposed 8000rpm limit – although with engine rebuild costs exceeding £60,000 today, it is unlikely you'll find a current owner who is prepared to put the theory to the test…
For car enthusiasts of a certain age, me included, the 959 and the GTO hold some kind of mythical status. I would fall asleep staring at Athena posters of the cars on my wall, wondering if Jim would answer my letter and fix it for me to get a ride – just one ride – in a GTO or a 959 (Jim never replied, the git). I saw a 959 once on a school trip to Germany when I was 13. It was brown and overtook the school coach at something nearing warp speed. I was so overexcited that the teacher told me to calm down. 'It's only a car!' the teacher said. 'It's not just a car,' I blurted, 'it's a 959!'
Nevertheless, the GTO, despite its technological inferiority, seemed even more exotic to that excitable 13-year-old. It didn't have a single bad angle and unlike the 959 it was purchased and driven by F1 drivers like René Arnoux, Michele Alboreto and Niki Lauda (which must've pleased his then boss, McLaren's Ron Dennis). The GTO was glamorous, sexy and driver-focused – unlike the 959 it did not feature ABS or four-wheel drive.
Some 23 years after that coach trip, I find myself in a 959 for the first time. Ahead is a GTO. It's going to be a good day…
First impressions are that the 959 is compact – shorter than a Cayman and marginally wider – but spacious inside. Its styling is absolutely '80s, every edge softened and every protrusion blended-in. Aerodynamics and Cd drag factor were the key words of the decade, and the 959 excelled in both.
You sit in a classic 911 environment, many characteristics of which remain to this day. The wheel is upright, the pedals floor-hinged and the rev-counter centrally mounted. Even the gearknob shape will be familiar to 997 owners.
The engine catches first time and settles to a smooth idle with few vibrations, matched to that classic, busy, complex but distant flat-six engine note. Once warmed, the six-speed gearbox shifts smoothly and quickly and the progressiveness of the pedals puts you at ease instantly.
Curious noises enter the cabin at low speeds. The brake servo puffs underfoot and each sequential turbo signals its arrival with deep and strong exhalations. And when the second turbo kicks in, I challenge anyone not to release either a) a profanity, b) a childish 'yee-ha!' or c) both.
Contemporary reports claimed that the 959 exhibited no turbo lag, which isn't exactly true by modern standards. When you nail the throttle there is a brief pause before both turbos align and deliver full boost, but it serves only to exaggerate the devastating accelerative feeling – indeed the 959 feels every bit as fierce as a current 997 Turbo.
It's devastatingly effective in the corners too, even by modern standards. The softest of the three-stage switchable damping settings amplifies the 911's characteristic front-to-rear pitch-shift over undulations, and there's barely any noticeable difference between the medium and hardest options. But pick up the pace and with the halfway setting selected the car starts to flow. The 959 needs speed for all its technical features to come into their own, although the owner of this car says the opposite is true on a racetrack, where understeer prevails and only a brutish effort to induce oversteer can quell it – as frightened 959 customers discovered in the mid-'80s during demonstration drives at the hands of a certain Derek Bell.
Like a hammer-thrower losing balance, exceed the 959's limits and you face an almighty tussle with rotational mass and gravity, which is why on the road you find yourself driving to the car's strengths. You use the shocking acceleration and total traction out of corners to make fast progress and you tune your senses to receive as much information as possible through the sublime steering in order to determine just how much grip is on offer. It's a challenge of matching human inputs to mechanical reactions with the added fear-factor of knowing that if you get it wrong, no type of period '80s torque-splitting four-wheel drive, ABS and switchable damping will save you from a £200,000 bill.
evo insured the GTO you see in these pictures for double the 959's value, and nothing as trick as 4WD or ABS exists anywhere on the Ferrari's chassis. As I discover just five minutes into my first experience behind the wheel, unlike the 959 the GTO will ignite its rear tyres and leave a big, fat, black 11 all the way up the road in first and second gear. It also features the fastest, most hyperactive steering rack on any road car this side of a Caterham.
The result is a fantastically agile, responsive and malleable performance car – provided your inputs are precise, clipped and accurate. You sit on a narrow, thin-backed seat just centimetres from the floor with your feet pushed towards the centre of the car and the steering wheel at an odd, forward-raked angle. This driving position, seemingly a characteristic of all Italian performance cars of the '70s and '80s, feels odd initially, but your body and mind are soon distracted by the epic performance and all thoughts of personal comfort disappear.
The GTO is fast. Faster than its 0-62mph time of just under 5 seconds would suggest. Indeed the owner of both the Ferrari and the 959 believes there's little between the two in terms of outright pace. The GTO is light too. At 1160kg, it's 290kg lighter than the 959.
The GTO chassis feels stiff bar the odd shimmy through the steering column, but the damping is compliant and the ground clearance more than adequate for fast B-roads. The result is an almost religious experience as you thread the car from corner to corner with minimal inputs from wrists to front wheels, by gently modulating the boost with the responsive throttle pedal, by click-clacking up and down the open gear gate and hearing the front tyres chirrup and squeal as you brake later and later. It's arguably no quicker than any fast modern sports car along any fast modern road, but it's in another universe when it comes to charisma, driver feedback and involvement.
Of the pair, the 959 is the most significant. For Porsche its value was represented not by profit – indeed Ferdinand Piëch, a major Porsche shareholder, went on record as saying that each 959 lost the firm just over £200,000 – but by the sheer learning accumulated during the car's development. The 959 is talismanic for being the grandfather of every modern Porsche, and has rightfully earned its place among the great road cars of the 20th century.
I almost didn't want to drive these hero cars of my childhood, but it was the Ferrari I feared for the most – it could've been a crushing disappointment; sloppy, slow and clunky. The opposite turned out to be true. The GTO is a masterpiece even today. Eminently driveable, exploitable, thrilling, beautiful and seductive, the GTO may never have raced, but it's won this battle. In fact, the GTO has bitten me, hard. Motoring journalists should never answer the oft-asked question 'what's the greatest car you have ever driven?' because there's always something better around the corner. But, for me, the GTO is the greatest and most desirable car I have ever driven. Thank you, Group B.
And a huge thank you to Lord Mexborough for allowing us to drive his sublime cars.
Birth of an Icon: the Ferrari 288 GTO story
Birth of an Icon: the full Porsche 959 story
Join evo's Twitter, Facebook and YouTube pages