ECU remap brings 777bhp to DMC tuned Ferrari 488 GTB
Lots of power to unlock from new turbocharged powertrain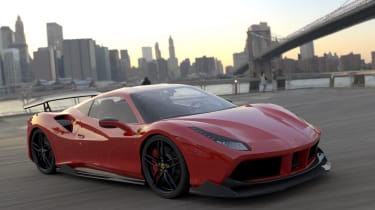 The Ferrari 488 GTB, even in standard form, is an unbelievably quick car. With 661bhp from its 3.9-litre engine, 0-60mph takes just a claimed 3.0 sec. 
Turbocharging makes the 488 GTB's engine much more likely to release bigger power following a remap compared to the 458's naturally aspirated unit. Tuning firm DMC managed to raise output to 777bhp and 638 lb-ft, simply via an ECU remap and exhaust swap.
>Read our Ferrari 488 GTB review
That's a significant jump for a 'Stage 1' tune, so expect even more power to be released from the 488's engine via more serious modifications. Another tuning company, Alpha-N Performance, has obtained 779bhp from the 488's V8 with a remap and nothing more.
DMC is also offering TUV approved carbon-fibre rear wings for the 488 via its 'Orso' package for the car. These can be manually adjusted between three increasingly aggressive settings. They're slightly more restrained than your typical supercar bodykit and can be seen photographed above.
Clearly, there is still more performance to be obtained from the 488's engine. If a remap can deliver F12 tdf levels of power, then imagine what more extensive modifications could do.