This is what the 2016 Ford GT will sound like
Hear what the turbocharged V6 of Ford's GT concept sounds like ticking over and flat out in these videos
The Ford GT concept has been filmed running, revealing how its turbocharged V6 engine will sound when it makes production in 2016. With its turbocharged EcoBoost also featuring in Ford's F-150 pickup truck as well as a prototype racing car, speculation as to which would better demonstrate the the GT's six-cylinder tone has been rife.
As revealed in the video above, the whistling and burbling 3.5-litre unit sounds nothing like it does when fitted to the Ford F-150 truck; unsurprising when the concept supercar is expected to produce over 600bhp, around 250bhp more than it's output in the 364bhp pickup.
>Read - everything you need to know about the 2016 Ford GT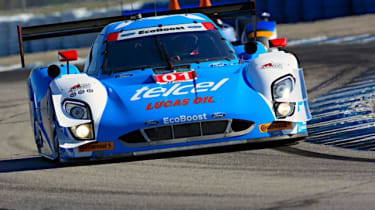 Instead, Ford's racing powerplant - which won the legendary Sebring 12 Hours in 2014 when powering a Chip Ganassi Daytona Prototype (driven by occasional evo contributor, Marino Franchitti) - appears to be a better source to base our aural expectations on. The GT's 3.5-litre unit even borrows much of its internals and technology from the race-bred V6.
The addition of road-legal silencers and sound deadening will most certainly reduce the EcoBoost's volume, but the general tone and character should be quite similar.
Watch the video of the EcoBoost powered Daytona Prototype below to get a better idea of what we're talking about.