Honda S2000 buying guide - a high-revving sports car for as little as £4000
9000rpm, perfect weight distribution and Japanese build quality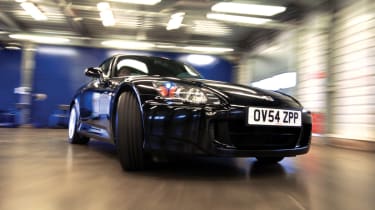 The Honda S2000 should be the purist car-nut's dream. Just look at the ingredients. It's a front-engine, rear-wheel-drive, two-seater sports car with a perfect 50:50 weight distribution to make the best use of the all-round double-wishbone suspension formed from lightweight aluminium. Best of all, though, is its engine.
Click here for page 2 - Honda S2000 checkpoints
This 2-litre four-pot, with 16 valves plus VTEC two-stage valve timing and lift on both inlet and exhaust camshafts, is redlined at an astonishing 9000rpm. It produces 237bhp – well over 100bhp per litre despite lacking forced induction – and if torque of 153lb ft seems low by comparison, then that's typical of a revs-optimised motor. That torque peak arrives at 7500rpm, so no wonder the highest of the six gears (selected by a titanium lever and rendered crunchless by carbonfibre synchronisers) gives just 18.3mph per 1000rpm.
Therein lies the S2000 snag. It bursts into banzai life above the 5850rpm VTEC cam-shift, howling with delight and almost unbelievably smooth in the process. Below these dizzy rev-heights, though, the S2000 feels a bit ordinary. Early ones seemed almost flat, so if you weren't prepared to rev it to oblivion all the time you'd have been better entertained by a humble MX-5. Honda never officially admitted to changes in mapping and camshaft profiles, but the 2004 facelift cars (designated AP2 instead of AP1) did pull with more vigour low down.
What is for certain is that Honda recalibrated the S2000's suspension three times during its ten-year career (1999 to 2009). Early ones just didn't communicate as they should have done, numb electric power steering being the chief culprit. The S2000 was prone to sudden on-limit oversteer, and the steering gave you no warning. Not nice.
In March 2002, stiffer springs, softer anti-roll bars and recalibrated dampers aimed to make control easier on the limit. At the same time the plastic rear window became glass and the GT (an extra £1000) was launched complete with removable hard-top.
The big changes came in 2004, including strategic bracing in the structure, even stiffer front springs and dampers but softer rear ones, a softer rear anti-roll bar, less increase in rear toe-in as the suspension compresses and a lower rear roll centre. Wheels grew from 16in to 17in and the steering had its overall ratio slowed by seven per cent. The S2000's dynamics improved dramatically.
A stability system was available from 2006 and became standard in 2008, when the final suspension tweaks (stiffer springs and dampers) mirrored those of the Japanese-market S2000 Type S. A year later, the Edition 100 (of which 100 were made) marked the end of the car originally launched to celebrate Honda's 50th birthday.
If Honda hadn't had to keep fiddling with its suspension, the S2000 could have been an all-time great of its type. As it is, an AP2 version is a thoroughly engaging car troubled only by imperfect steering feel. It's well-built and reliable, despite those revs. Worth a look? Undoubtedly.
Find your dream Honda S2000 for sale on Classic and Performance Car
'I bought one'
Nick Hickman
'I've done 5000 miles in it so far, mainly long trips at weekends. When there's somewhere to go I'll always drive us in the Honda, top down whenever possible.
'I love it for how it looks, and how it's affordable to run yet has a real wow factor. I don't think anyone could drive it and not want to drive it hard. There's something magical about seeing 9000rpm in front of you and knowing it's safe.
'The S2000 has a double personality. It can be driven every day with all the comfort of the air-con, CD player and so on, yet it can be extreme fun when you want it to be.
'There's sometimes a light rattle 
that goes away after an oil change then comes back, which the Honda dealer has twice failed to fix. And the roof leaks onto my right leg when it rains. But those are the only things that have gone wrong with it.'
Click here for page 2 - Honda S2000 checkpoints