Dan: 'Strong design. It's not dissimilar in the real world. Modern family cars can make the same power as supercars from 50 years ago, but modern technology and driving aids mean someone drinking a latte and texting at the wheel can somehow negotiate the roads – albeit unsafely.
'But essentially, we've done the same thing in the game. We developed a cutting-edge simulation with no compromises – and then we add the green line that tells you where to brake and which line to follow, we add things like traction control and stability control, and we have Rewind, so when you make a mistake you can just go back a few seconds prior to your mistake. There's even auto steering and auto braking so the car will drive itself to a certain extent, and that's what allows an eight-year old to drive the game.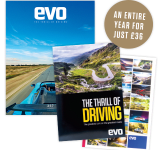 Subscribe to evo magazine
evo is 21 and to celebrate, we're returning to 1998 prices! Subscribe now to SAVE 39% on the shop price and get evo for its original cover price of £3.00 an issue, plus get a FREE gift worth £25!
'If you turn off all the assists and you grab a wheel, you'll have an incredible cutting-edge simulation in your living room. But if you want to just play it with your kids in split-screen, you can do it and have a good time.'
This detail is also present in the game's flagship car – the new Ford GT. Joining us in our interview with Dan Greenawalt was Steve Ling, Ford's marketing manager. Where did the relationship with Turn 10 start?
Steve: 'When we were designing the GT it was part of our self-imposed brief to take the GT to a much broader audience. When Turn 10 got in contact – having heard inklings of the car – we realised that our car and Forza's product cadence would work out.
'The company has been fantastic though – the secrecy limitations we put them under were intense! To be able to do the surprise reveal we did at the Detroit auto show was wonderful.'
And what is the GT like in the game?
Dan: 'I'm kinda numb to it right now! This studio is one of the few people who has driven the car at Le Mans, the Nurburgring, and Spa, and Silverstone… so I'm kinda spoiled here that I've now been hot-lapping this car, and I can't wait for players to get the chance to put the car through its paces.'
Steve: 'I think the rendering the team has done in the game is astonishing. The lengths at which they went to achieve that, I guess I'm not surprised. But the way that the vehicle is portrayed in the game, the way you can see up through the distinctive flying buttresses – it comes through with flying colours in the game.'
Has anything about the Ford GT been technically challenging to implement – are some cars more difficult than others?
Dan: 'Every car presents a new and unique challenge to build. Even when you're talking about a car from 1939, it's very low tech but equally difficult to simulate than a newer car. You still have to get the travel of the suspension right, for example. It's not difficult as such, but it's the reward of doing the hard work – to get the true joy and the thrill of driving and feel it come to life in your hands.'
Forza Motorsport 6 launches in Europe on September 18 (it arrives September 15 in the Americas) and will cost from £49.99.