Jaguar XFR
Ollie's been driving other supercharged cars this month. Do any match up to the mighty XFR?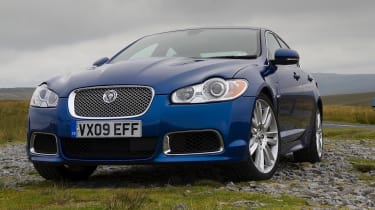 Supercharging is a great way of getting more power from an engine – providing it's done well. In the last few weeks I've driven a couple of cars that have had superchargers bolted on after they left the factory (the Paramount Aston V8 Vantage and the Abt R8-R, issue 139), and you can tell that they don't really belong. Even in the thoroughly engineered Abt you get the sense that Audi's R8 just wasn't designed to be supercharged; it doesn't quite suit the car.
I've never had that feeling while driving the XFR. This is a car born to be supercharged. You can tell it's been part of the development process from the very start and it goes a long way to proving that supercharging still has its place when all around are using turbos.
What I particularly love is that there's so little inertia in the supercharger, no feeling that the engine is having to work to turn the screws. Get on the throttle and the XFR just leaps forward, no whine, just a bit of exhaust flutter.
I think it helps that the Jag is fresh from its 15,000-mile service, carried out at a cost of £483. Which is pretty steep, but then £193 of that was for new brake pads – a reminder that this is a big, heavy car.
Running Costs
| | |
| --- | --- |
| Date acquired | June 2009 |
| Total mileage | 17,007 |
| Costs this month | £483 |
| Mileage this month | 3090 |
| MPG this month | 20.7mpg |