The first car on our shortlist was nominated by motoring ed Barker. Back at the turn of the century he ran one of these big cats on our Fast Fleet for two years and it became virtually part of the family. That was the uprated 'R' version, which is not only rare but doesn't quite slide into our budgetary constraints. However, the good news is that the supercharged 4-litre V8 fitted to the standard XJR packs the same 370bhp velvet-gloved punch. Known as the X308, this sixth version of the XJ ran from 1998 through to 2003, and there are so many of them around that £8K can easily bag you a tidy example.
Outside and in, the XJR is every inch a Jaguar. This particular car has cream leather (slightly cracked now) stitched over the well-bolstered chairs. Turn the V8 over and it wakes with an unobtrusive, discreet and almost distant burble. The Eaton supercharger doesn't find its voice until you start to press the throttle deep into the thick carpet, and when you do you're whisked forward with seemingly effortless grace. The torque makes a mockery of the Jag's girth at low revs, then as the supercharger spins harder, its whine dominating proceedings, there's an unexpected top-end kick.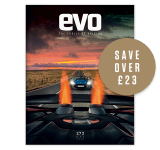 Subscribe to evo magazine
Subscribe today to have every issue of evo delivered straight to you. You'll SAVE 39% on the shop price, and get evo for its original cover price for a whole year!
Even with CATS (Computer Active Technology Suspension) dampers, as fitted to this example, the ride is soft and compliant but surprisingly controlled, although roll is quite pronounced. The tracking is out slightly and the brakes feel a little past their best, struggling to haul us down cleanly from big speeds and, worryingly, pulling us slightly to the left (this may be connected to the tracking issue), so some money would have to be spent to bring this XJR back to its former glory. Mind you, it is being advertised on Auto Trader for £7995, so there would be money in our budget to get things straight. Also in its favour is the fact that it has recently had nearly £2000 spent on new catalysts and lambda sensors.
Composed yet with hard-hitting performance, and well within our budget, the XJR is a real contender.
Checkpoints
• Pre-2000 engines had a Nikasil coating on the aluminium bores that is prone to degradation. When this happens compression is lost and the car won't start. Unfortunately this is a terminal problem and although Jag did replace affected units under warranty back in the day, you'd be hard pushed to get them to do it now. It's essential, therefore, to get the engine compression checked before buying, or, better still, only look at cars that have had the engine replaced (there will be a green label at the right-hand rear of the block) or post-2000 model-year cars.
• The plastic used for the timing-chain slippers on early cars can disintegrate over time. Listen for a rattle from the front of the engine when it is cold. The slippers should be replaced at 60,000 miles. If not done, valves will hit pistons… Replacement is a labour-intensive job, so expect to pay up to £2000 to get it done, but it will cure the problem completely as the later steel slippers will be installed. From 2000 reinforced plastic versions were fitted and these should be fine; the steel type came on stream in 2002.
• The heavy wheels can wear the front wheel bearings, but the suspension is generally robust; dampers last around 80,000 miles.
• The electrics should all be working fine. There are no common problems, but check everything functions correctly as fault-finding is time-consuming.
Specifications
| | |
| --- | --- |
| Engine  | V8, 3996cc, supercharged |
| Max power | 370bhp @ 6150rpm |
| Max torque | 387lb ft @ 3000rpm |
| Weight   | 1775kg |
| Power-to-weight | 211bhp/ton |
| 0-60mph  | 5.6sec |
| Top speed | 155mph (limited) |
| Est. running costs | £1300 per year (includes depreciation and maintenance but excludes insurance and fuel) |