Koenigsegg Agera RS takes world's fastest car crown with 277.9mph run
Koenigsegg has set a new 277.9mph world speed record for a production car on a closed public road in Nevada.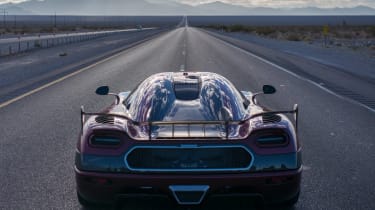 Sweden's only hypercar manufacturer has set a world top speed record for a production car after clocking a two-way average of 277.9mph with its Agera RS on an 11-mile stretch of Nevada highway. At 12mph faster than the Bugatti Veyron Super Sport and over 7mph more than the Hennessay Venom, Koenigsegg is confident it has built the world's fastest road car.
Koenigsegg had permission to attempt the word record attempt on a stretch of highway between Las Vegas and Pahrump, with the authorities closing the 11-mile stretch between 7am and 3pm over two days. However, the team reached its target early on the first day of running.
> Koenigsegg breaks Bugatti's 0-400-0kph record with time to spare
Driven by factory test driver Niklas Lija, the 5.0-litre turbocharged V8 put its 1380bhp to good use to set the new record on its standard Michelin Cup 2 tyres. After a single sighting run Lija set off on his first high speed attempt and returned to record a two-way average of 277.9mph. It is understood that Lija hit over 284.6mph in one direction.
With the two runs recorded and verified by Racelogic, Koenigsegg is confident it has set the new official road car speed record and will now wait for confirmation of the record and, of course, Bugatti's response. The Chiron is currently claimed to have a top speed limited to 261mph, although it is claimed to have a 310mph potential. The only factor holding it back from cracking the triple-ton is the availability of a suitable tyre. Michelin is currently working on a tyre capable of withstanding the forces put through a tyre when a 1479bhp, 1996kg car is travelling at nearly four and a half times the UK's motorway speed limit.