Koenigsegg breaks Bugatti's 0-400-0kph record with time to spare
Never one to back away from a challenge, Koenigsegg smashes the Chiron's record time by nearly five seconds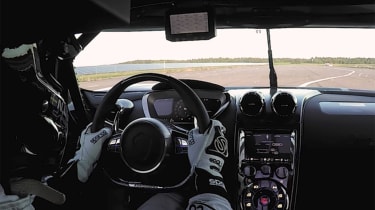 It was only a month ago that Bugatti claimed the (first) 0-400-0kph world record in a Chiron with ex-F1 driver Juan Pablo Montoya at the wheel, but it's taken Koenigsegg no time at all to take it away, and by a good margin too.
Driven by factory driver Niklas Lilja, the Koenigsegg Agera posted a time of 36.44 seconds over a 2535m distance. This beat the Chrion's effort by a massive five seconds, with Bugatti posting a 41.96 second time over 3112m.
> Click here for our techical rundown of the Koenigsegg Regera
The model in question was a freshly built Agera RS customer car, which is now headed for the US. With a total of 1340bhp and 1011lb ft of torque in this form, the Agera RS may be some 139bhp off the Bugatti Chiron, but its weight advantage clearly made up for the power deficit. 
Completed on a non-ideal WW2 runway in Denmark, the record attempt had to deal with potholes and uneven pavement, but Koenigsegg persisted, breaking the record on 1 October.
Why not make the attempt in the more powerful One:1 you might ask? The car in question was fitted with the same, upgraded 5-litre twin-turbo V8 engine as is fitted in the One:1 anyway.
So, will Bugatti respond? Time will tell.