Geely takes majority stake of Lotus
Chinese company also controls Volvo and London Taxi Co., and takes a 51 per cent stake of Lotus Cars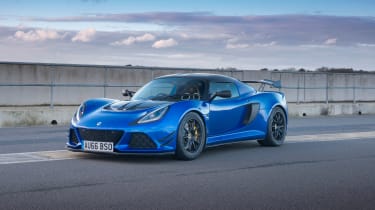 Chinese car manufacturing giant Geely has completed a deal to take a majority stake in British sportscar brand Lotus. The arrangement means that Geely now owns a 51 percent share in Lotus, with Malaysian firm Etika Automotive controlling the remaining 49 percent of the firm. This deal comes as part of Geely's recent acquistion of a 49 percent stake in Malaysian manufuctuer Proton, which through its parent company DRB-HICOM has owned Lotus since 1996.
However, while it's all change behind the scenes, current Lotus CEO Jea-Marc Gales will continue in his role as CEO. This stability will be seen as crucial during an important period of rebuilding for Lotus, which sales increase by ten percent over the first half of 2017 compared to the same period last year. Crucially, Geely's investment in Lotus will allow the firm to push forward with ambitious plans for new models.
'Following a successful business turnaround, the Lotus brand has never been in a stronger position and we are now perfectly positioned for growth,' explained Gales. 'We are producing the best cars in the company's history and are currently developing next generation of sports luxury vehicles which will continue to demonstrate the Lotus brand values of class-leading vehicle dynamics, light weighting, styling and aerodynamics by leveraging Geely Holding's global strengths and resources.'
> Read all our Lotus reviews here
The board of directors will have new look overall, though, with Geely Holding's Executive Vice President and Chief Financial Officer, Mr. Daniel Donghui Li now in place as Chairman of the Lotus Board. Mr Li has big plans for Lotus and has made it clear that transforming the brand fortunes will be a key objective of the takeover. 'With the transaction completion we now look forward to working with our partners to develop the Lotus brand into a globally competitive brand and a well recognised leader in the sports car market,' he said. 'We are extremely confident that Lotus will go above and beyond the expectations of the automotive industry and consumer base in the near future'.
The deal looks set to benefit all sides. Loss-making Lotus and budget brand Proton would have access to Geely's wealth, as well as expertise from other brands under the Geely umbrella - like Volvo. Lotus has something to bring to the table, too. The king of lightweight sports cars, Lotus is a leader in composite and weight-saving technology, which Geely will deploy across its vehicle range to help meet group efficiency targets.
> Click here for our review of the Lotus Elise Cup 250
Geely benefits from Proton's supposedly under-utilised manufacturing plants in the South Asia region, allowing its budget car offerings to be sold tarriff-free across the Association of Southeast Asian Nations (ASEAN) - including countries like Malaysia, the Phillipines and Indonesia. DRB-HICOM already assembles cars for a variety of manufacturers – Honda, Isuzu and Suzuki along with Proton – so has considerable manufacturing clout, too.
What could this mean for Lotus? The British company has benefitted hugely from previous owner Proton's involvement over the last two decades, with access to cash reserves but a fairly hands-off approach to management. Geely appears to take a similar approach with its own brands - Volvo, for example. However, Geely's pockets are much deeper than Proton's ever were, which means Lotus is likely to have access to far larger funds than ever before. Crucially, Geely is a brand with ambitious global plans and Lotus' engineering know-how gives it a huge advantage when developing forthcoming products across all its brands.