Jean-Marc Gales leaves top job at Lotus
Gales replacement to be a Geely-sourced board member – a first visible sign of Geely's influence?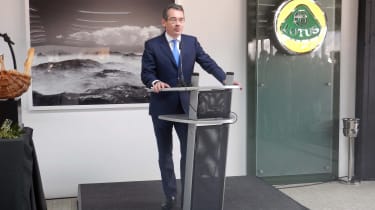 Lotus boss Jean-Marc Gales is to leave the company he took into the black after an extensive history of non-profitability. Not devoid of a controversial past, the Norfolk-based British manufacturer has recently fought its way through financial troubles with Gales at the helm.
However, Lotus's recent acquisition by Geely, the Chinese motoring juggernaut also responsible for the purchase of Volvo in recent years, has clearly started to have an effect, with Gales's replacement confirmed to be Qingfeng Feng, vice-president and chief technical officer from Geely, who joined Lotus's board at the point of Geely's acquisition.
> Click here for our review of the Lotus Exige 410 Sport
Geely's purchase of Lotus was part of a larger acquisition agreement, including a 49.9 per cent share of Proton, purchased from HICOM Bhd of Malaysia. Due in large part to the revitalisation of Volvo, Geely looked to be the financial backer that Lotus would need in order to once again become a real player in the performance car market.
Gales has been widely acknowledged for bringing Lotus into profitability for the first time, by a combination of streamlining Lotus's workforce and selling more cars at a higher profit margin through a constant stream of special and limited editions.
What does this mean for Lotus? With only further integration into the Geely conglomerate, Lotus should finally get the chance to take advantage of proper financial backing to redevelop its sports car range, one that has its foundations in many of its models from as far back as 1996. If Volvo's current successes are anything to go by, Lotus could be on the cusp of a major redevelopment.
And what next for Gales? He's been appointed the new CEO of Essex-based classic car restorer and retailer JD Classics. Leading an expansion planned by JD Classics, Gales said: 'I am excited by the opportunity to lead the JD Classics team. This is a business with very talented technicians and craftsmen and truly knowledgeable and passionate sales advisors. It has grown over the past 30 years to a world-class business known for a quality product through the passion and dedication of its team.'