Fear not, this isn't another special edition – not that you could blame Lotus if it were, as the company's special editions are customer-led, with production sold out before most are announced. Rather the £79,900 Sport 410 fits between the two existing models – the Sport 350 and Cup 430 – in the recently revised Exige range. Until an all-new Exige (and Evora) arrives in 2020, this is how the line-up will stay for the next 18 months. 
Developed from the range-topping Cup 430, the Sport 410 is said to blend the performance and focus of the former with the more road-biased set-up of the Sport 350. It retains the familiar 3.5-litre supercharged V6 and six-speed manual gearbox.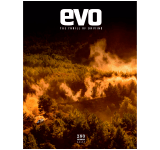 Subscribe to evo magazine
Subscribe today to have every issue of evo delivered straight to you. You'll SAVE 39% on the shop price, and get evo for its original cover price for a whole year!
Technical highlights
Where the Cup 430 is an Exige with a clear focus on aerodynamics, the Sport 410 relies more on mechanical grip than aero for its handling balance. To this end, there are no extreme vents on the top of the front wheelarches, not that this stops it from producing 150kg of downforce at 180mph, split 60kg at the front and 90kg across the rear axle.
Further changes to the car's aerodynamics include new front intakes to increase the airflow speed and create an air curtain over the front wheels to restrict turbulence and drag. There's also a carbonfibre front splitter, a flat underside and an aluminium diffuser, all taken from the Cup 430. 
Beneath the body is very much a Cup 430 chassis, albeit one that's been tuned for more on-road compliance rather than for chasing the fastest lap time. Therefore the Nitron springs and three-way adjustable dampers have their own settings, yet retain the Cup's adjustability (24 clicks for rebound and low-speed compression, 16 clicks for high-speed compressions). With less downforce than a 430, the chassis settings have been adjusted to ensure the car is still 'pushed' into the surface. Both Eibach anti-roll bars have also been adjusted accordingly. 
> Just looking - Lotus Elan M100
Running Team Dynamics forged wheels, measuring 17 inches at the front and 18 at the rear, the Sport 410 is fitted with Michelin's Pilot Sport Cup 2 tyre, with AP Racing discs and calipers nestled behind. 
If you want to go further with your Sport 410, Lotus will sell you a titanium exhaust that trims a further 10kg from the car's already light weight; sill covers, a rear diffuser and binnacle surround in carbonfibre trim 2.7kg; and if you're feeling brave you can delete the airbag and save yourself another 2.5kg. If you spec all of these you will have ordered the lightest V6 Exige ever sold, tipping the scales at 1054kg dry, or 1108kg with fluids.
Engine, transmission and 0-60mph
Rather than tune the Sport 350's supercharged V6, for the Sport 410 Lotus has instead detuned the 430's version of the same engine. Along with the new engine map there is also a new water-to-air chargecooler, an additional front radiator and a new water-to-oil oil cooler installed in the engine bay. Peak power is 410bhp produced at 7000rpm and 310lb ft of torque available from 3000 to 7000rpm. Of the three Exige models now on sale it has the flattest torque curve. 
> Porsche 718 Boxster GTS review
The six-speed manual transmission is as per the other models, but there's a smaller (240mm) clutch than in the Sport 350, and the 430's lighter single-mass flywheel is also fitted. 
In terms of performance, the Sport 410 reaches 60mph in 3.3 seconds and tops 180mph regardless of whether you order the coupe of roadster variant. 
What's it like to drive? 
Driving an Exige is like being in a small room with three very clever people telling you exactly what's happening in a the world in a voice that's so crystal clear it makes actual crystal look a bit murky. 
It's the steering that grabs your attention first, initially because in 2018 an unassisted rack is such a rare thing that you're instantly hit by the realisation that you need to put some effort in when first manoeuvring at low speeds. Add speed and it's delightful. Delicate and delicious from turn to turn, flowing with an uncorrupted clarity and such a clear channel of communication that you steer with your instincts as much as you do with actions. 
The three-spoke steering wheel moves in your hands a great deal on the road as it reports everything the front wheels are absorbing, but the car is never thrown off line and with the lightest of grips you can edge it to where you want it to go, the front end faithfully obeying every input like a child that's been promised Ben & Jerry's if they finish their homework within the hour. On track the 410 feels connected to your eye sockets, turning with your eyeballs as they focus on the corner entry, apex and exit. So natural is the steering's motion that you don't register your wrists' fluid movements as they roll from turn to turn. 
As with the steering, the chassis is in constant dialogue with you, too. There's more movement than in any of today's sports cars as the dampers and springs register, digest and react to every roll and hole in the tarmac. At first you think it's too busy, too intrusive, but then you begin to stretch that V6, snick another gear and suddenly every piece of movement adds another layer of reassurance, inspiring confidence to push further on into the Sport 410's performance. 
And boy does it have some guts. Below 3000rpm the V6 pushes you around at hot-hatch pace, but as soon as you extend the revs, reaching beyond 4000rpm and opening the exhaust's valve, the Exige lays down its supercar credentials. A combination of the single-mass flywheel and the shove of the supercharger turns the Exige from a thoroughbred sports car to a supercar-baiting flyweight. The rate at which it piles on speed in the top three gears would require a 911 to be a Turbo rather than a Carrera turbo to get away from you. 
Combine that steering, chassis and engine performance in a low, light, narrow(ish) two-seater body and the result is a car that punches so far above its weight you can't believe Lotus charges so little for it. 
For some it won't be perfect. On poor surfaces there's a lot of road noise, and for those used to being cocooned in a silent cabin surrounded by plush leather, thick carpets and an infotainment system, the wind noise around the top of the B-pillar will be unexpected. But if you love driving on road and track, relish being integral to a car's ability and its performance, then you'll fall for the Exige Sport 410 big time. 
Price and rivals
£79,900 for a Lotus Exige will be considered toppy by some, madness by others. 'You could buy a Porsche 911 for that. Or a Cayman GTS and have change!' they cry. And they're right, but when it comes to being immersed in the driving experience and dining on the thrills it brings, few come close to the Exige Sport 410.