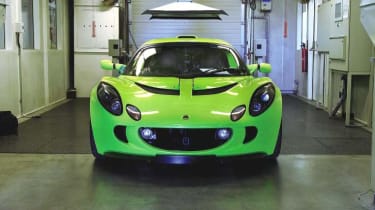 I think I knew I wanted an S2 Exige the first time I saw one. Then I drove one and I knew I had to have one. A baby-exotic with truly special world-class dynamics, built by one of the few marques with enduring appeal and engineering credibility, it's one of those cars that works on a multitude of emotional and rational levels. That it doesn't have 400bhp and lots of cylinders doesn't really enter the equation. In fact that's a positive bonus when you're paying for it yourself.
When the brochure, colour chart and options and price lists hit the doormat I was like a kid on Christmas morning. Some of the options chose themselves, such as the Performance Pack and air-conditioning, but the colour took some deliberation. After much umming and arring I went for Krypton Green, because most of the others were too 'Elise', and if you're going to have a silly car you might as well have one in a silly colour. After a quick chat with the nice people at Lotus Finance, all that remained was a few months of thumb-twiddling before the Exige was built. The wait was agonising.
So, you can imagine my excitement when the call came from Lotus to say the car was ready to collect. Better still, if I could spare the time, production manager Luke Bennett would take me on a tour of the factory. I jumped at the chance. Hethel is an endearing hotchpotch of the original aircraft hangars that formed part of Chapman's factory, spliced with spacious purpose-built factory buildings. Old though some of the buildings are, the working practices are thoroughly modern.
In the 'good old days' it used to take anything up to a month to build one Esprit. Now it takes a week or so for Lotus to build an Exige. That's still an age in mass-production terms but, given the amount of hand-assembly and finishing that's required, it's close to the optimum for Bennett's cost-efficient one-shift system.
Just last week 105 'units' were produced (mostly Federal Elises, plus 20 or so Elises for the UK and other markets, 17 Exiges and just a handful of VX220s), which is a record for the current staffing levels. Bennett confidently expects that figure to breach 120 units per week before very long. Given the troubles in Lotus's recent past, it's heartening to see the good times returning to Potash Lane.
Though a cursory glance would suggest there's little to make an Exige harder to build than an Elise, the Exige is a more labour-intensive car to manufacture. The front and rear clamshells, for instance, are hand-laid rather than vacuum-formed, as they are on the S2 Elise. Being hand-laid means that though of very high quality, the surface finish can't match those of the vacuum-formed panels, which in turn means more care has to be taken when priming and painting the Exige clamshells. Some of the 'Extreme' colours offered on the Exige options list are also more time- consuming to spray. Krypton Green, I'm pleased to say, is right up there on the pain-in-the-arse scale, testing the skills of Lotus's sprayers to the limit if they're to stick to the 17-minutes-per-car schedule.
It might be a pain to spray but boy does it look good when I catch sight of AU54 FNM in the factory's inspection area. I have to confess to having a bit of a wobble after speccing the phosphorescent hue, but am pleased to say that it sets Russell Carr's styling off a treat. And I can say this with total authority as the man himself popped into the factory to say hello.
It's a great end to a memorable day. The buzz at Lotus is infectious, the sense of momentum, confidence and pride in the products hard-won and well-deserved. When Ansar Ali, Lotus's general manager, hands me the keys he's wearing an unusually large smile even by his standards. While extracting money from a motoring journalist has undoubtedly contributed to his sunny demeanour, the fact that he's hot-footed it from a 'future product strategy meeting' is perhaps more revealing.
I need to spend the next few weeks completing 1000 brisk but sympathetic miles before returning to Hethel for the first service. While I'm at the factory I'll also have a more vocal, freer-breathing Lotus Sport exhaust system fitted. Once that's done there's nothing to stand in the way of enjoying this fantastic little car apart from work. I'm sure Harry won't mind if I take the next year or so off...
Running Costs
| | |
| --- | --- |
| Date acquired | October 2004 |
| Total mileage | 202 |
| Costs this month | £0 |
| Mileage this month | 179 |
| MPG this month | na |