I hear the Lotus Exige 380 Cup before I see it coming: the resonant whah-whah-whah of the supercharged V6, just above idle and barely silenced, as it reverberates across an empty high street. First impressions count, and mine of this Lotus is that it has just turned left instead of right at Arnage corner to arrive at this rural part of Bedfordshire. Its shrunken Group C-esque form looks starkly low, compact and angry sandwiched amongst the typical vehicles and street furniture of an English village. It has red wheels, for heaven's sake.
Anticipation of this incongruous rendezvous with Hethel's most aggressive road car has been heightened in advance by Dickie Meaden's opinion of the 'standard' Exige Sport 380 (evo 231). He concluded his five-star review by saying: 'Drivers' cars don't come much better at any price.' Hmm. That good? Certainly, on looks alone the Cup 380 has me utterly under its spell already. In one sense its relatively small dimensions give it an unthreatening, lovable demeanour, but it's bigger and wider than the insect-like Exiges of old: it looks like it can handle itself in tough company.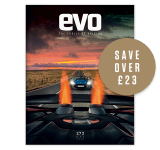 Subscribe to evo magazine
Subscribe today to have every issue of evo delivered straight to you. You'll SAVE 39% on the shop price, and get evo for its original cover price for a whole year!
Engine, transmission and 0-60 time
The centrally-mounted, supercharged 3.5-litre V6 drives the rear axle through a six-speed manual gearbox. Throttle pinned, 375bhp and 302lb ft of torque can be summoned at 6700rpm and 3500rpm respectively, sending the Exige onto a 175mph maximum speed, while 0-62mph is dispatched in 3.6sec.
> Click here for our Lotus Elise Sprint 220 review
Tecnhcial highlgihts
The Cup takes the already finely honed Exige Sport 380 and applies parts from the track-only Race 380 to make a halfway house between a road and a track car, focusing on removing weight, improving aerodynamic performance and honing even further the car's dynamics via fully adjustable suspension. Chief amongst the changes is the considerably greater use of carbonfibre, reducing the Cup's kerb weight to 1105kg from the Sport's 1110kg. Remember, too, that this is all based on a car that already takes saving grams seriously, let alone entire kilograms. The shiny composite material is used for a new front splitter, the front access panel, the bargeboards, the roof panel, the diffuser surround at the rear, the larger side intake pods (these save 500g, for instance) and a one-piece tailgate.
The massive carbonfibre rear wing is the most obvious of the aerodynamic enhancements. It's been made possible by an increase in downforce on the front axle courtesy of the louvres now incorporated in the front panel, which create negative pressure in the front wheelarches. All told, there's 200kg of the mysterious invisible force at the car's maximum velocity of 175mph – an increase of 43 per cent over the Sport. Sure, that may sound all rather academic, but Lotus promises it can be clearly felt once you're travelling at more than 60mph. Even the windscreen wiper now parks centrally to generate less drag.
The Sport's Bilstein dampers have been replaced by adjustable Nitrons, complemented by Eibach adjustable anti-roll bars. The dampers offer a range of 16 settings in compression and 20 in rebound, and Lotus recommends a 'road and track' setting to stop customers getting into a setup muddle. The Nitrons feature a bigger bore and corresponding piston and also have spherical metal attachments rather than rubber bushes. That means there's no wasted motion and they can cope with a much higher spring rate (up 60 per cent), which in turn is necessary with the increased downforce. A wider rear Michelin Cup 2 tyre – a 285 section, up from the Sport's 265 – improves grip and traction further still.
> Click here to see our best trackday cars of 2017
You'll also find a small silver dial on the left-hand side of the steering column. This tailors the Cup's multi-stage traction control, but the important point here is that this is not part of the Exige's four-stage ESP system, which has its own Touring, Sport, Race and Off modes. It's only when you choose the last of these that the traction control dial comes into play, allowing the driver to choose a target slip level of between one and 12 per cent (or simply 'Off'). This is a motorsport- style traction-control system, too, cutting the spark and therefore the torque output of the engine when slip is detected, rather than applying individual brakes. The theory is that the car is not slowed by any artificial application of the brakes, however slight, while the percentage rating stems from the fact that after five per cent slip a tyre doesn't tend to generate any more grip.
> Click here for our Lotus Evora 400 review
What's it like to drive?
Lotus claims the Cup is also a car to be used on the public road as much as around any race circuit, which given its specification and hardcore focus is quite a bold claim. Initially, any in-depth dynamic observations are clouded in my struggling brain by the rabid acceleration and the deafening exhaust note of the V6, exhaling here through the optional titanium exhaust (saving another 10kg). This blue-tinged, centrally mounted organ emits a kind of sonic warfare that turns heads on the roadside 500 yards in advance. Make no mistake, wrung out to the red line, the Cup 380 is absolutely brutal.
That gearlever also plays its part in the Cup's appeal. Not only does the bare mechanism look fantastic and embody exactly what a Lotus should be, but at last Lotus has managed to fashion the six-speed manual shift into something befitting a pure, lightweight drivers' car. Flicking between the ratios is a joy, even if there's still something slightly odd about the initial response of the accelerator pedal and its relationship to that of the brake for heel-and-toe changes. Overall, the Cup's interior is a delight, with terrific carbon seats, swathes of Alcantara and a blanking panel and cut-off switch where the radio is usually situated.
Dynamically, the Cup operates on a plane some way above what can be fully experienced on the public road. However, so engrossed are you in the driving experience that this Lotus provides more sheer enjoyment than most modern supercars combined. Most corners require no more than the thought of turning the wheel and a slight squeeze of pressure in the right direction. It's a firm-riding car, and over poor surfaces the dampers are obviously working hard and the steering tugs this way and that. The trick with the latter is to know when to release your grip and let the Cup get on with it, and when to grip harder to keep it pointing straight.
It's fabulous fun, but then so it should be for £83,000. The cliché at this point is to say 'that's a lot of money for a Lotus', and granted, it is, but I can honestly say that this is the first time I've felt a product from Hethel can genuinely command that sort of money. From the finish of its carbonfibre to its detail design and construction, the Cup feels worth it.
So perhaps the worst thing about the Cup is Lotus's 'sold out' stamp at the end of the press presentation, a 'here's a brilliant new car you can't have' trick it seems to have adopted with glee from Porsche. That's a shame, because exactly like Dickie said of the Sport 380, this Cup 380 really is one of the best drivers' cars at any price.