Lotus Evora buying guide
The 'practical' Lotus, with a sublime chassis and up to 345bhp. All from just £30k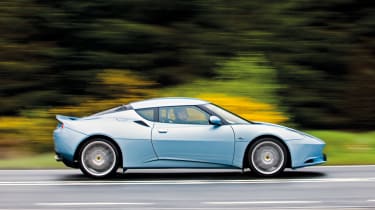 The Evora was a big deal for Lotus. The biggest investment in the company's history, a car conceived to go head-to-head with the likes of Porsche's Cayman and 911 with no excuses needed. With a 276bhp Toyota 3.5-litre V6, Lotus's proven aluminium chassis technology and world-leading ride-and-handling know-how, it promised junior-supercar dynamics. And with more refinement and the option of two-plus-two seating, it also promised to take the Lotus brand to a whole new audience. Projected sales were 2000 a year worldwide.
It didn't work out quite like that. When the Evora went on sale in early autumn 2009, it looked pricey for the performance – not helped by the 450 Launch Editions only being available fully optioned-up, inflating the basic £47,500 to a bracing £59k. Sales were steady at best – around 400 a year in the UK at their peak, with a similar number going overseas.
The Evora was considerably more refined and habitable than an Elise or Exige, and dynamically it hit the bullseye. The supercharged S version launched in September 2010 lifted power to 345bhp. Definitely worth having is the Sports Pack (standard on the S), which adds drilled brake discs and a Sport button that sharpens the throttle and relaxes the ESP. Ditto the Sport Ratio (close ratio) gearbox. Also worth seeking out are the Tech Pack (nav, Bluetooth, reversing sensors, cruise, iPod connector) and the Premium Pack (full leather trim, reversing camera, improved ICE, and xenons – although this pack became standard in 2011).
Now that you can pick up a 2010 Evora for not much more than £30K, it's starting to look seriously tempting.
Find a used Lotus Evora for sale on the Classic and Performance Car site
'I bought one'
Justin King - 'A good all-rounder was what I was after. Something special, quick and trackable, but also useable. The 911 was the obvious choice but I wanted something a bit more unique. I tried the Evora and I knew instantly it was the one for me. The handling really is second to none. It feels just as at home on track as on a Euro jaunt thanks to the interior comfort and superb Recaro seats.
'I bought mine new from Murray Motors in Edinburgh, who have looked after it since and are the best garage I've had the pleasure of dealing with. I still remember the salesman wincing when I specced Chrome Orange, as most were the more subtle silver or black shades.
'I've owned it almost three years now and have done four trackdays in it, including the Nürburgring. The rear seats are next to useless for anyone over 4ft, although I have squeezed three passengers into it for a few miles. The satnav unit is a bit of a fiddle, but OK once you're used to it. I get 25mpg in mixed driving, 30 on a good run.
'The Evora is the longest I've ever owned a car. It really is a fantastic all-rounder, and I'm genuinely struggling to find something to replace it with.'