Maserati Quattroporte - Maserati Quattroporte checkpoints
Essential checkpoints when buying a secondhand Maserati Quattroporte
A Quattroporte is a complex car, but looked after properly it need be no more troublesome than a BMW 7-series or Mercedes S-class. That's true of the automatics, anyway; the DuoSelect cars can be more demanding, as we shall see.
Make sure you know which QP you want and which gearbox it has. It could be an Executive GT, whose cheesy name denotes wood, plushness and softer suspension. It could be a Sport GT, more fun and still with a decent ride, and carbonfibre instead of wood. On recent cars, an S in the name means it has a 4.7-litre engine.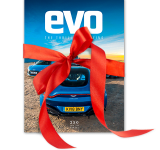 Subscribe to evo magazine
If you're passionate about the world's greatest performance cars, experience the thrill of driving with evo magazine. Try your first 5 issues for £5.
• Engine If it has red cam covers it's a dry-sump, if blue it's a wet-sump. Fundamentally it's a pretty robust unit but the cam covers and front crankshaft oil seal have been known to seep oil. Very high mileages can bring on some valvegear clatter but oil burning hasn't yet proved a problem. Erratic running can be caused by a failing air-flow meter.
• TransmissionThe QP's DuoSelect is a much more refined transmission than the 4200GT's Cambiocorsa because the clutch is set up more precisely. Expect to see 20-25,000 miles from a clutch if driven sympathetically, although some owners have achieved just 12,000. A clutch change costs £1400. Crucial to (relatively) long clutch life are not sitting in a traffic jam in first gear and avoiding reversing up steep slopes.
The other worry is failure of the hydraulic gear selectors, which can leak or even explode. That's £2500 in parts alone. So you may want to go for a later car with a ZF automatic, which is pretty much trouble-free.
• Suspension and tyresIt's important to have regular four-wheel geometry checks, because the QP drives appallingly if the alignment is out. Early steering racks develop play around the centre, but post-2005 racks were cured of this by a modification. The suspension itself lasts well but the bushes and dampers (often an expensive Skyhook active system) inevitably wear eventually and there have been reports of squeaks.
Original footwear was by Michelin or Pirelli, but Matthew Sage of specialists Giallo Cars of Edenbridge, Kent, reckons that Falken 452s are a cheaper alternative: 'They drive absolutely brilliantly,' he says.
• Body and electricsLook for stone chips around the wheelarches. Check the bonnet safety catch is working properly, too; they sometimes don't. The interior has a few quirks such as loosening switch panels and a tendency for the corners of the leather rear console to get snagged as people climb into the centre rear seat, but it's all fixable.
Warning lights might occasionally light up and go off for no obvious reason. Window motors can struggle as they get older, as the double-glazed side windows on UK cars are a tight fit in the guide channels. Beware trouble with the xenon headlights: the ECU and ignitor pack can burn out, leaving you with no dipped beam, so you'll need a new headlight at £1400 plus another £100 to reprogram it to the car.
• BrakesThey're effective enough but can feel a bit wooden. It's important to change the fluid every year. Giallo Cars offer an upgrade with better pads and DOT 5.1 fluid.
Useful contactswww.maseratiforum.co.uk (forums)www.giallo.co.uk (specialist)www.maseraticlub.co.uk (owners' club)www.maserati.co.uk (Maserati website)
Specifications
| | |
| --- | --- |
| Engine | V8, 4244cc |
| Max power | 394bhp @ 7000rpm |
| Max torque | 333lb ft @ 4500rpm |
| Transmission | Rear-mounted six-speed sequential transaxle or front-mounted ZF six-speed auto |
| Tyres | 245/40 ZR18 front, 285/35 ZR8 rear |
| Weight (kerb) | 1930kg |
| Power-to-weight | 207bhp per ton |
| 0-62mph | 5.2sec (claimed) |
| Top speed | 171mph (claimed) |
| Price new | £69,995 (2004) |