Mazda CX-3 crossover: LA auto show news and pictures
Mazda has revealed its Nissan Juke rivalling CX-3 crossover at the LA auto show
Mazda has revealed its CX-3 crossover at the LA auto show. As the fifth model in the Japanese carmaker's latest SkyActiv engined, Kodo design wearing range, the CX-3 is set to go on sale globally in 2015. Competing against the likes of the Nissan Juke and Peugeot 2008, the CX-3 is expected to be one of Mazda's biggest sellers.
In Europe the crossover will be available with three engines, a 2-litre SkyActiv-G petrol unit available in two power outputs, and a 1.5-litre SkyActiv-D diesel unit. Whilst power remains unconfirmed, those engines elsewhere in the Mazda range produce 163bhp, 118bhp and 99bhp respectively, with the diesel also capable of over 70mpg and CO2 output hovering just over 100g/km.
Available with either a six-speed manual or automatic transmission, the CX-3's power will be sent to all four wheels. Its AWD system features an active torque control coupling (much like VW's Haldex system) to distribute power between axles to maximise traction. 
Mazda promises 'light and agile handling in the city, but stable handling on winding country roads' thanks to the use of SkyActiv-generation body architecture that features lots of high-tensile steel (63 per cent of the body is made from the stuff), and cross-sectional shapes for high rigidity and a light weight.
The car receives Mazda's latest Kodo design language both inside and out, with prominent details such as the wide-mouthed grille and clutter free dash mixing with the chunkier proportions of a crossover.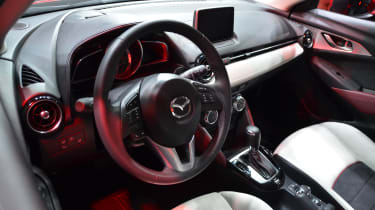 Inside, the CX-3 gets Mazda's latest MZD Connect, a car-connectivity system that enables access to the internet and phone communications when on the move. It works alongside Bluetooth connectivity and digital radio. 
Mazda brings its 'driver-centric' philosophy to the CX-3, something its MX-5 is the flagship model for. The CX-3 benefits from this ideology with the driving position, positioning for control devices such as the gear-lever, position of the pillars and even body dimensions all being angled to offer maximum driving pleasure.
The CX-3 follows the latest Mazda 2 and MX-5 as new arrivals, and sits below the larger CX-5 SUV in the range. Sales are expected to commence in the summer of 2015 with prices starting around £13,000.