Mazda MX-5 at Nurburgring 24 Hours
The Mazda MX-5 will compete at the 2014 Nurburgring 24 Hours, with a road tester from Evo's sister title among its drivers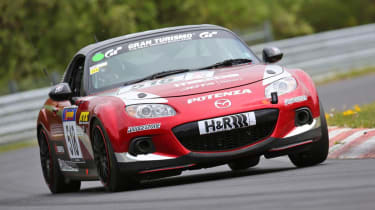 Mazda will compete at the 2014 Nurburgring 24 Hours. A Mazda MX-5 will be among the many dozens of cars qualifying to start the round-the-clock race, which uses a combination of the Nurburgring Grand Prix circuit and the iconic Nordschleife.
The car, as usual, will be ran by Mazda's motorsport friends at JOTA Sport, with Owen Mildenhall - the senior road tester of our sister publication, Auto Express – one of its drivers. He already has N24 experience thanks to previously racing a Lexus IS-F alongside Gran Turismo video game creator Kazunori Yamauchi, while he has regularly raced MX-5s in events closer to home. He is joined on the four-man team by Wolfgang Kaufmann, Teruaki Kato and Stefan Johansson, the latter bringing 24-hour experience from Le Mans, including a victory and seats in the Porsche 956 and Mazda 787B.
The 2014 N24 takes place the weekend after its Le Mans equivalent, with the race taking place on June 21 and 22. Evo's Richard Meaden and Jethro Bovingdon are both competing too, racing an Aston Martin V8 Vantage and BMW M235i respectively.