Mazda MX-5 (Mk3) buying guide - Mazda MX-5 (Mk3) buying checkpoints
These are the things you need to know about buying the Mazda MX-5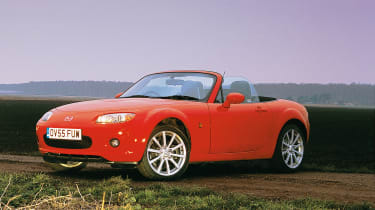 Mazda MX-5 engine
The chief difference between the 1.8 and 2.0 is that the latter has variable valve timing; otherwise, capacity aside, they're essentially the same. Both, according to specialist Paul Roddison (mx5-racing.co.uk), are 'bombproof' so long as the oil is checked regularly and changed on time; Paul advises every year or 10,000 miles for oil changes.
'They can use oil, up to half a litre every 1000 miles,' he says. 'The only problems we've ever seen are when the oil has run low. Our race car bounces off the rev limiter all day and we've never had a problem.'
A misfire on early cars is usually traced to a broken wire to a coil pack. A popular modification is a remap and freer-flowing exhaust, which releases an extra 20-25bhp and costs £1795.
Mazda MX-5 gearbox, differential and clutch
Again, the only problems here are when the oil level in the differential runs low. 'We have seen the odd diff failure,' says Roddison. 'So listen for a noisy diff. And as soon as you buy a car, get the engine, gearbox and diff oil changed.' The six-speed gearbox can be stiff and notchy when cold but should be fine when warmed up. A switch to Red Line MT oil helps this issue.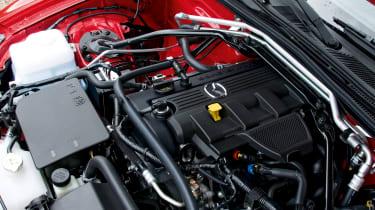 Mazda MX-5 suspension, steering and brakes
Like the Mk1 and Mk2, there's loads of adjustment in the suspension, so a full alignment check is crucial to getting the best out of the chassis. Beyond that, coilovers are a popular upgrade. Gaz and MeisterR get good reviews (budget around £1000 for a full set fitted, including alignment).
The MX-5 is particularly tyre-sensitive, so make sure they're all matching. Paul rates Nankangs if you do the odd trackday or Kumho KH31s for purely road use. The standard brakes are fine for road use, but upgrade the pads for trackdays.
Mazda MX-5 body, interior and electrics
Mk3s have a bit of a reputation for corrosion, but rust inside the bonnet and bootlid is usually superficial (caused by the rubber seal wearing through the paint) and on the suspension arms it's unsightly but not structural (they get replaced during the car's life anyway).
The floorpan and chassis rails are usually sound. Test a folding hard-top for smooth, judder-free operation; the plastic gears in early cars sometimes give problems, and a fix can be pricey.