Mazda MX-5 (Mk3) buying guide
After a shaky start, the Mk3 MX-5 soon hit its stride, and the earliest cars are now a very tempting £4k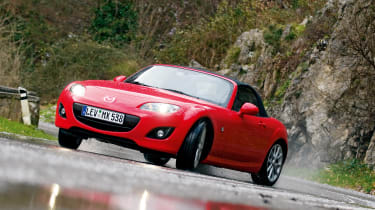 Our first impressions of the third-generation MX-5 weren't terribly favourable. Perhaps suspicious of a 'grown-up' Five with the option of a powered metal roof and a different suspension set-up to the 'pure' Mk1s and Mk2s, we gave it a bit of a kicking. Especially at eCoty 2005, where an example with distinctly iffy handling came a resounding last.
Our view mellowed with time. Mazda itself produced lowering springs that ameliorated the chassis' remote, disjointed feel. Experiencing cars that had had their wheel alignment properly checked helped too, and the facelifted Mk3.5 was a marked improvement.
The simple truth is, properly set up, a Mk3 or 3.5 is still a hell of a lot of fun. And now with an all-new model on the horizon, prices as low as £4000 for the earliest examples and a lot of those 'pure' Mk1s and 2s succumbing to rust, it's a good time to reconsider the third gen.
At launch, the basic 1.8i had a five-speed gearbox, 16in wheels and no limited-slip diff. The 2.0i gained the LSD, while the 2.0i Sport added a six-speed 'box, 17in alloys, Bilstein suspension and a front strut brace. There was a Coupe version of all models, with that neatly folding metal top.
MORE: Mazda MX-5 (Mk1) buying guide
In 2009 the car was given a substantial facelift. The Mk3.5 (or NC2) had a sharper new look and tweaks to the engine and chassis. The range was essentially the same with slightly different badging – 1.8i SE, 2.0i SE, 2.0i Sport Tech – and the addition of the 2.0i Powershift (a six-speed auto).
As ever with MX-5s, there have been many special editions (for a full run-down, look at roadster-nc.com), but two genuinely special Fives are the 2.0i GT Jota Coupe (203bhp, lots of carbon, Öhlins damper option) and the 2.0i BBR Turbo GT270 (268bhp, just 100 built).
Just as with the Mk1 and Mk2, there's plenty of scope for modifying, from a set of poly bushes to sharpen the handling (and stiffen the ride), right through to turbocharger and supercharger conversions. With helpful forums and clubs, a growing band of specialists and a flourishing trackday and motorsport scene, there's a lot here to love.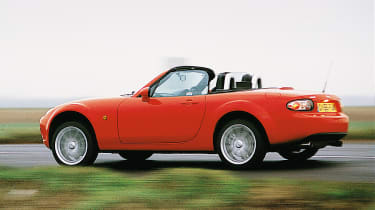 Mazda MX-5 driven
May 2006 (Mk3)
'The Mk3 is quicker, better built, undoubtedly safer in a crash, better equipped and better finished. Mazda deserves credit for achieving all of this with a negligible weight penalty and only moderately increased cost. But the new MX-5 feels closer to a BMW Z4 than an old MX-5. If that thought floats your boat, buy one and you'll probably love it.
Whatever model you drive, get the alignment checked. Properly set up, the two ends of the car seemed more in tune with each other – there was less of the sensation of an ultra-darty front confusing a squidgy rear, and the car started to flow through corners.' (evo 091)
April 2009 (Mk3.5)
'The revised 2-litre four still makes 158bhp but now revs a little higher and sounds a tad more raspy and characterful, too. The steering response and rate, the damping and the balance of the chassis feel just as good as they did on the second-generation MX-5, which is to say in harmony, cohesive, feelsome and poised. If you have the confidence, on a wet road you can drive it as you would a Caterham. The MX-5 is back to being brilliant again.' (evo 129)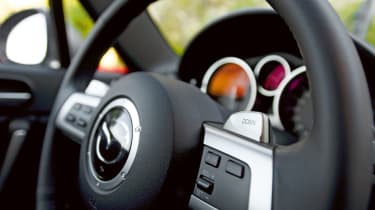 Mazda MX-5 owner's review
Gareth Brown - 'I bought my 2006 Mk3 for £5999 in July 2012 with 38,000 miles on the clock. It's a 2.0 soft-top with Option Pack, so it has the LSD but not the Sport's six-speed 'box and Bilsteins. I quickly had lowering springs fitted and the alignment set up correctly – £350 well spent. I also added the 17in wheels and Michelin Exaltos from the Sport.
'In 2013 I attended a Mazda on Track day at Blyton Park and, after driving Paul Roddison's car, I realised mine was still under-damped and wallowy for track work. So I had MeisterR adjustable coilovers fitted by Paul, with full corner weighting and a more aggressive alignment. It's so much better. On the road it no longer grounds on speed bumps under compression but is still compliant. Best of all, I can stiffen the dampers with a twist of the adjuster and it is much more planted on track.
'I find it more fun than the Boxster S that I had before. It's fast enough for me to learn the ropes on track and is relatively cheap to run. It averages mpg in the high-20s, though mid-to-high-30s is easy to achieve with some restraint. It's also practical enough for commuting and the school run. The MX-5 doesn't do a huge mileage – about 8000 since I've had it. In that time it's been faultless and has passed two MOTs without a hitch.'