Why McLaren's F1-derived sensor technology could transform tyre safety
How long until tech fitted to Mika Häkkinen's 1998 McLaren makes it onto your road car?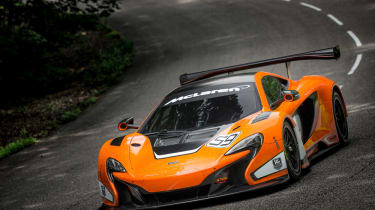 We should all welcome the fitment of tyre pressure monitoring systems (TPMS) on new cars – if properly maintained, their ability to warn drivers about potential punctures or dangerously low or high pressures can significantly reduce the chances of a tyre failure.
McLaren Applied Technologies (MAT) could be on the brink of making these systems significantly more advanced, by transferring complex sensor technology it has developed for F1 onto the road.
'The first car to use our TPMS was Mika Häkkinen's 1998 MP4/12. I put his championship win down to our sensors,' laughs Richard Hull, MAT's motorsport sales engineer. 'But since then we've added a lot of things to the system. One of our most recent F1-derived developments adds infrared sensors that can accurately monitor the temperature of a tyre's carcass.'
Hull says that as well as the live monitoring of pressures to within 0.1 psi, the system can also measure temperatures of up to 170C. 'This makes it perfect for F1, where red-hot brakes can lead to incredibly hot wheel temperatures.'
Using this live stream of data to monitor tyres means the chances of a blowout are substantially reduced – something all of MAT's motorsport customers will no doubt appreciate.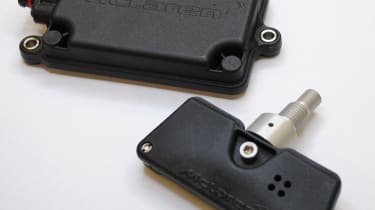 'If a tyre goes down on a straight, the driver isn't always aware – centrifugal force means the tyre can appear fine at high speed. But with TPMS it's a very good advanced safety and warning feature, so drivers don't go barrelling into a corner flat-chat when they've actually got a puncture,' explains Hull.
If MAT's plans to transfer this system into road cars go ahead, drivers could increase the longevity of their tyres by monitoring temperatures on the go. If the system shows that the car's rear tyres are getting too hot, for example, the driver can reduce their workload and stop them from overheating. Just imagine how useful that information would be on a trackday.
There's more. By monitoring carcass temperatures, problems such as tracking issues can be revealed as soon as they arise, because if the front tyres get hot on a straight road, a likely culprit could be alignment.
In short, using MAT's TPMS could help to increase tyre longevity and maximise performance, all while improving safety. 
'I can't imagine this temperature tech would be of that much interest to Ford for a standard Focus,' continues Hull, 'but for high-speed cars like the P1, these sensors make sense.'