Ultimate McLaren MP4-12C for sale - commissioned by Ron Dennis and in Vodafone F1 colours
F1 driver signatures under the hood complete ultra-rare car
This 2012 McLaren MP4-12C is the only car ever produced by MSO to be painted in full Vodafone F1 'rocket red' racing livery. Called the MP4-12C High Sport, it's one of ten vehicles that feature redesigned front and rear bumpers, side air extractors and louvres above the front wings, all as a nod to McLaren's GT3 racers as well as to increase brake cooling and downforce.
This car in particular - chassis No. 9 - was commissioned by no less than Ron Dennis himself and includes the signatures of both drivers and crew from the McLaren Formula One team. The interior of the 12C features a central console in F1 team colours, as well as a revised instrument cluster and full carbon-fibre engine bay.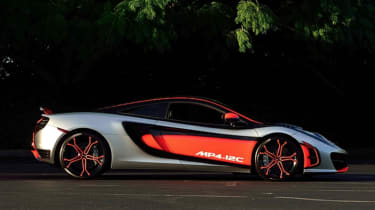 Other specifications include a Meridian sound system and carbon ceramic brakes. Also optioned was a sports exhaust and the 12C's 'stealth package', which sees the exhaust tips and airbrake mechanism finished in black.
Price estimates for this one-off 12C range from £850,000 - £1,000,000 at the Kissimmee 2016 auction on January 15th
>Read our McLaren 675LT review
MSO (McLaren Special Operations) is McLaren's bespoke wing, producing unique details and parts for its road cars as well as one-off ultra rare vehicles. MSO also maintains the few McLaren F1s in existence, offering upgrades to new owners of the car.
Recent MSO work includes the 650S 'Le Mans edition' which featured a McLaren F1-style snorkel on top of its roof as well as louvres not unlike the ones seen on this unique 12C.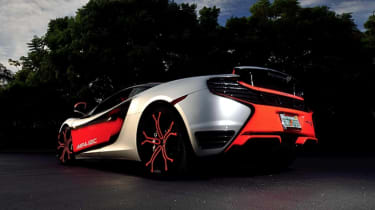 The McLaren MP4-12C features a 3.8-litre twin-turbo V8 mated to a 7-speed dual-clutch gearbox that puts out 592bhp and 442lb ft of torque. 0-60mph takes just 3-seconds dead, while the 12C tops out at 205mph.
>Read our review of the McLaren P1
McLaren's latest road car, the 675LT, came second in evo's recent Car of the Year test, you can see it in action here. Alternatively, if you'd like to see evo's Henry Catchpole drive an MP4-12C to the Alps, click play below.