THE ONLY SURFACE-BREAKING AERODYNAMIC DEVICE IS THE NEAT 'BRAKE AND BALANCE 'FOIL TO MAINTAIN THE CENTRE OF PRESSURE IN THE REQUIRED LOCATION
At high speed, aerodynamic lift can compromise any car's stability. Many high-performance sportscars carry wings to cancel this lift, but Formula 1 experience proves them inefficient and drag inducing.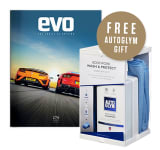 Subscribe to evo magazine
Subscribe today to our exclusive new offer and SAVE 39% on the shop price, get evo for its original cover price of £3.00 an issue, plus get a FREE gift worth £20!
Major manufacturers often claim minimal drag coefficients – Cd – for new car shapes. Yet alone such figures are irrelevant.
One crucial factor is aerodynamic Centre of Pressure – CoP – through which lift and downforce react upon the moving car. its location is vital to car behavious, yet amongst production sports and supercar designs, few address CoP control.
Under maximum braking, weight transfer causes nose-down dive. Aerodynamically this attitude rushes effective CoP far forward, maximising front wheel load, minimising rear. The braking vehicle's rear end is inevitably destabilised.
On the McLaren F1, the only surface-breaking aerodynamic device is its neat 'Brake and Balance 'Foil' hinged into the tail deck. Activated automatically by electronic control sensing heavy braking, this BB 'Foil deploys at 30-degrees, slightly raising Cd, but crucially enhancing base-suction at the rear of the car to generate greater downforce from the underbody with its Centre of Pressure in the correct location.
Thus braking stability is greatly enhaced by moving the CoP rearwards when conventional design would allow it to rush far forwards...
Deploying this BB 'Foil exposes rear-brake cooling intakes to control the extra heat being generated by the brake application.
BB 'Foil operation is an entirely different principle to anti-lock braking which maintains tyre adhesion by releasing application on imminent lock.
The McLaren F1's new system instead evenly increases tyre load during braking to postpone the onset of wheel locking.
The F1 driver may also partially deploy its BB 'Foil in a 'High Downforce' mode. Unlike a traction-limiting control device this actually increases grip and traction – another of the McLaren F1's valuable safety options.