McLaren 12C Spider launch video
McLaren has released an official video to publicise the launch of its new 12C Spider.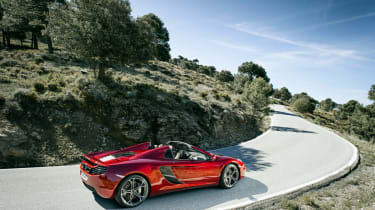 McLaren has revealed its new 12C Spider in video for the first time. Like its main rival, Ferrari 458, with which it shares a name, the 12C drop-top uses a folding hard-top rather than a canvas hood. McLaren is now taking orders for the 12C Spider.
The video demonstrates the clever roof retracting, before some high-speed top-down driving on a twisting mountain road...
Full details on the 2013 McLaren 12C Spider here