evo social playlist - Rolls Royce Wraith, C63 AMG and more
Behind-the-scenes clips, track videos and more - this is a week with evo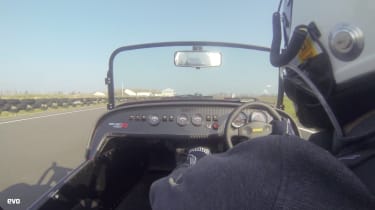 It's harder than you think putting together an issue of evo. Deadlines are tight, plans don't always come together and even when everything works perfectly, there are always limitations.
The magazine has a finite number of pages, so fitting everything in each month is already a struggle. But there are some things we simply can't show you. That's where evo.co.uk, the evo App and EVOTV on Youtube excel.
Even then, we don't always have time to put together a beautifully-edited video for your delectation. That's where this page comes in: each week, we'll be putting together a brief selection of videos. Some will preview bigger stories, others might be clips from the latest launch, and others still are simply there to entertain. Welcome to evo's social playlist.
Mercedes-Benz C63 AMG S Estate
Henry Catchpole recently drove the new Mercedes-Benz C63 AMG. His video from the launch shows AMG's latest product has lost none of the appeal of its predecessors, despite the move to turbocharging. You can read Henry's full verdict in evo 208.
Rolls-Royce Wraith
Our colleagues at Octane recently borrowed a Rolls-Royce Wraith for the weekend. We couldn't resist investigating the car's sumptuous interior on your behalf – here's a glimpse behind the Wraith's elegant reverse-hinged doors.
Lego 918 and LaFerrari
Lego is enjoying something of a resurgence at the moment, with new fans and nostalgic builders enjoying the firm's latest products. A new line of motorsport-inspired models caught evo's attention – so we filmed a quick timelapse of the latest Lego hypercars.
Caterham Sevens on track
Take one Welsh race circuit – Llandow, to be precise – a handful of evo road testers and Caterham's latest range of Sevens. The results are predictable: armfuls of oversteer, plenty of speed and a day of action-packed fun.
Have you got any interesting videos to share? Email Hunter@evo.co.uk. We'll only publish stuff that's legal, so make sure you're behaving yourself.