2015 Mercedes A-class gets digitally developed adaptive damping
We look at the simulator that could transform the next-gen A-class's ride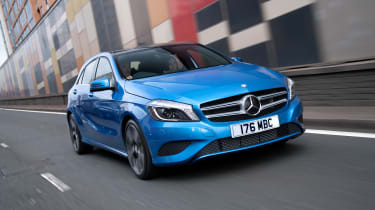 The next-generation Mercedes A-class will feature an optional adaptive damping system that has been developed using digital simulators. The carmaker claims its state-of-the-art simulators have been pivotal in ensuring the new suspension offers a wide range of settings, which suggests that the 2015 A-class will posses a substantially better ride than its predecessor (pictured).
We sampled the new A-Class's ride on the outskirts of Stuttgart at Mercedes's Sindelfingen research and development facility. Located in a dark, windowless room, the ride simulator is made up of just two seats from the new car on a test rig that stands on six electric actuators. The simulator uses data collected from real world driving to simulate ride quality over different surfaces, with a projected video of the route displayed ahead.
While we can't go into detail about how the next-gen A-Class will perform on road, we can confirm that a prototype has spent 10 weeks on this ride simulator. After this, Sindelfingen's team can pass the optimum digital settings on to engineers for real-world testing.
'The configurations are already very developed before we hit the road,' confirms engineer Wolfram Just during our simulator demonstration. 'It means our colleagues can start further forward in the development process, shortening the development time.'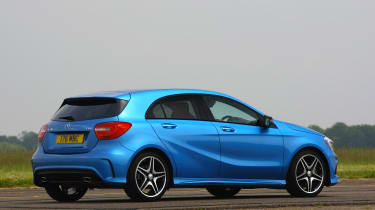 Wolfram admits that models like the S-class (a car renowned for its comfortable ride) often take significantly longer to develop. 'We don't want to spend so much time on models like the A-class though, because sometimes we can go too far – beyond what is necessary. It's important to remember that you notice more things on the simulator because you are not hearing the engine, seeing the surroundings. In real life the ride often feels much better when these things are also around.' 
Mercedes says that the use of a simulator not only speeds up the development process, but also significantly reduces costs, as fewer physical parts have to be made. This is also true for other areas of development. 
Digital crash simulation, for example, doesn't require any physical cars to be damaged. The first physical car to be crashed is therefore built with the results of hundreds of digital crashes in mind, so it's much closer to its optimum setup in far less time. It's interesting to note that even with this more efficient process, Mercedes will still crash test around 250 cars a year.
While we can't reveal any more about the 2015 A-class, it's promising to learn that Mercedes has used some of the world's most advanced simulator technology to optimise its suspension. The standard, non-adaptive damping setup has also benefitted from simulator runs, meaning all models across the range stand good chance of avoiding replication of the old car's crashy ride. evo readers might be interested to hear that the next-gen AMG A45 has also benefitted from simulator runs, so it too should improve on the outgoing car.
More details will be revealed when the 2015 A-Class is launched early this summer.