New Mercedes-AMG GLE 53 Coupe revealed at Frankfurt motor show
Love-or-hate coupe SUV returns, this time with straight-six power and hybrid-assisted AMG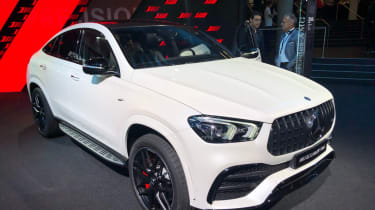 1/16
Mercedes-AMG has revealed its latest entry in the controversial Coupe/SUV genre, with the latest GLE 53 Coupe headlining AMG's somewhat quiet Frankfurt motor show.
Like 'em or loathe 'em – we're closer to the latter, since you asked – they're here to stay, and if there's some small recompense for their continued existence it's that they generally drive pretty well these days.
The 53's twin-turbocharged and 48V hybrid-assisted in-line six has previously seen service in '53' versions CLS and E-class, and reappears here to put a 429bhp spring in the GLE Coupe's step, while also reducing fuel consumption and emissions.
As far as the former is concerned, the powertrain is good for 0-62mph in 5.3sec and a 155mph limited top speed, while combined fuel consumption of 30.4mpg and CO2 of 212g/km are respectable by the standards of the class, if not by absolute standards.
As an AMG model the GLE53 Coupe also gets pumped-up styling, though we'd probably avoid the white of the supplied images for fear of one of Captain Ahab's descendants pursuing us with a harpoon gun.
AMG-specific elements include the radiator grille with its vertical strakes, front and rear bumpers specific to the model, and unique 20-inch alloy wheels as standard – with up to 22-inchers optional. There's also a diffuser-style element at the back, and twin tailpipes, while an AMG Night package replaces some of the shinier elements with black trim.
Inside too are AMG-specific touches, from an AMG steering wheel to metal-finish pedals, but it's the technology that should separate the 53 from its cooking siblings. AMG Ride Control air suspension is standard, as is AMG Active Ride Control, which uses servos to actively tighten the anti-roll bars in cornering.
AMG Dynamic Select lets the driver tweak the car's behaviour to their liking (including Trail and Sand modes you won't find on more conventional AMG saloons), while AMG has equipped the GLE Coupe with some suitably beefy brakes – a full 400mm in diameter at the front (grabbed by two-pot calipers), with 345mm discs and single-pot calipers at the rear.
Of course, it isn't just the AMG 53 that's new – the near-five-metre long and two-metre wide GLE Coupe as a whole is new, with front and rear aspects more in keeping with the rest of the Mercedes-Benz range, and technology such as LED headlamps.
Inside it adopts the dual-screen set-up used by everything from the A-class to the G-wagen, but the overall effect is moving away from Mercedes' previous circles and curves to something that looks a little more structured – the oblong vents being an example. Large grab handles on either side of the centre console remind you that you're in an SUV rather than a saloon. Importantly, Mercedes says the new GLE Coupe is more spacious than before, despite a wheelbase 60mm shorter than the conventional GLE.
Engine-wise, regular GLE Coupes get a pair of straight-six turbodiesels in the European market, one badged 350d and the other 400d. They offer 268bhp with 443lb ft and 326bhp with 516lb ft respectively, with economy up to 37.7mpg and CO2 as little as 197g/km. As with the GLE53 Coupe, the 400d is an engine we've driven in the CLS, and it's among the smoothest diesels on the market.
Steel-sprung suspension is standard, with Airmatic optional and E-Active Body Control on top of that, using road-scanning technology to individually adjust each suspension corner for the road ahead. It also uses the curve-tilting function first seen in the S-class, to keep passengers on the straight and level.
The first cars will arrive in dealerships in 2020, following the official public unveiling at the Frankfurt show. Mercedes has confirmed plug-in hybrid models will follow, too.