McLaren Edition SLR supercar revealed
McLaren reveals a new update for the Mercedes SLR McLaren supercar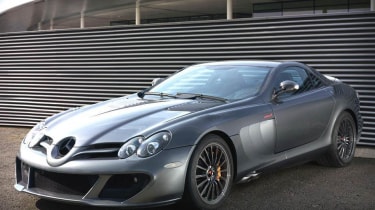 McLaren has shown off its new special edition kit for the now discontinued Mercedes SLR McLaren. The tuning update made its first appearance at this year's Essen Motor Show.
The limited edition kit, called the McLaren Edition SLR, is a retrofit option for existing standard SLRs. It'll provide them with a new aerodynamic body kit and modified steering and suspension set-ups, as well as a few interior enhancements.
The front bumper gains a new mesh grille and massive air intakes, while the fins on the side are simplified, losing the horizontal strips running across them.
Performance stays the same, as the 5.5-litre V8 remains untouched. The engine produces an impressive 617bhp (at 6500rpm), 575lb ft of torque (at 3250rpm) resulting in a top speed of 208mph in coupe form.
McLaren has limited the production to 25 kits and no price has yet been revealed. It can be construed as the sixth iteration of the supercar, following on from the coupe and roadster in standard and 722 Edition form, and the striking Stirling Moss special. The SLR ceased production in 2009 when McLaren and Mercedes went their separate ways with supercar production. See a full picture gallery of the SLR's life here.
Mercedes has since introduced the SLS AMG, its successor to the SLR, and McLaren is due to launch the £168,500, 592bhp MP4-12C in 2011.
See a picture gallery of the Mercedes SLR McLaren's life here
Huge 2010 Essen motor show picture gallery this way