New Mini Clubman John Cooper Works - Review
Mini's Clubman gets the John Cooper Works treatment.
What is it?
Here's an intriguing prospect: a mini-estate, both in terms of the brand and by its size, with a 227bhp 2-litre turbocharged powertrain hooked up to four-wheel drive and, in this case, an eight-speed automatic 'box. This could either be the answer to a question never before asked, or a unique and feisty proposition. Time to find out.
Technical Highlights:
The JCW Clubman uses the same 2-litre turbo engine as the JCW hatch, meaning 227bhp and 258lbft of torque – a useful increase on the 189bhp and 206lbft of the standard Cooper S model. To achieve this, the engine runs more boost, and benefits from modifications to the turbocharger, a larger intercooler, new pistons that lower the compression ratio and a second cooling radiator.
Naturally, the rest of the mechanical package has been upgraded to suit: the suspension is firmer, there are Brembo brakes with four-pot calipers on the front axle, and the JCW Clubman is only available with Mini's All4 all-wheel drive system, an 'on demand' setup featuring an electro-hydraulically operated clutch. It's essentially front-wheel drive unless any slip is detected.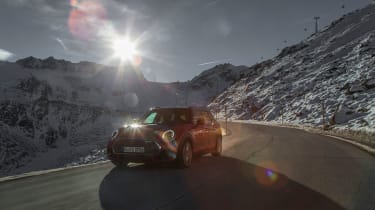 What's it like to drive?
First impressions of the JCW Clubman are positive. Styling is always subjective, but in spite of some rather gauche details its long, low form, hunkered down over large rims, does at least stand out on the road as something different. Clamber in and the all-black cabin is snug, almost claustrophobic possibly for some, the window lines high and the view out the front in typical letterbox style. It's a busy sort of cabin, full of plasti-chrome embellishment and elaborate switchgear, but again, it's certainly unmistakable, and the steering wheel adjusts right out for a decent driving position. Glance in the mirror and there's the thick central bar inherent to the Clubman proposition, restricting visibility as usual, though it does remind me of the Bell Star XF lid Jacky Ickx used in the mid-1970s, so all is not lost.
Partnership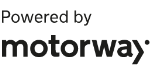 Need to sell your car?
Find your best offer from over 5,000+ dealers. It's that easy.
Sadly, the overwhelming initial thought during the first few miles is 'just where have a sizeable proportion of those JCW horses disappeared to'. Rarely has a small car of this power felt so toothless, whether it's in the initial response to the throttle, hauling through the mid-range, or revving at the top end. Actually, revving at the top end is something of an exaggeration, for the engine does the best of what exertions it can muster below 5,000rpm. Quite why this should be so noticeable must surely be at least partly due to the car's weight, which stands at 1,565kg in automatic guise (a Golf R Estate is 1,574kg). But even then, it's still a puzzle as to why a car with a claimed 0-62mph time of 6.3-seconds and a top speed of nearly 150mph can feel so uneventful.
Perhaps the (untried here) manual 'box is a better fit, because while we've become accustomed to the eight-speeder usually doing no wrong, even in Sport configuration here it feels ponderous during quick driving; it hates an upshift close to the redline and likes to remind you on down-changes that it and it only will decide when it's appropriate to engage the next gear.
Much of the above would be tolerable were the JCW Clubman enthralling to drive, but it's some way from that. It feels as though by trying to make a car with a longer wheelbase drive like a more traditional mini the steering has been artificially compromised. Turn one or two degrees and not a lot happens; turn a degree or two more and the nose darts towards the apex, often requiring an easing back of the 'wheel to avoid over-turning. It's very hard to be smooth with this 'dog-leg' approach, corners being divided into several bites, which rapidly becomes irritating. The Sport setting adds artificial but reassuring weight over the standard 'Mid' setting, but retains the same reluctance to self-centre.
Deploying the engine's torque through all four wheels certainly removes the slightest suggestion of torque steer, and gives the Clubman fine traction out of tight corners. But it's not terribly exciting either, and there's little incentive to drive the car hard. It's far happier being driven in a more relaxed fashion, the gearbox left in auto and just the occasional squirt of torque to row you along – not really the stuff of John Cooper Works legend.
The BMW engineers have had to increase the rear spring rates to allow for spirited running with heavier loads than the hatch', and given it felt very rigid on the smooth Austrian roads we drove the car on on, it might well be an uncomfortable ride in the UK.
Although the Clubman is technically an estate, its 360-litre boot (expandable to 1,250-litres with the seats folded) is only slightly bigger than a Clio's (300-litres) and some way off a Golf R (605-1,620-litres). Rear seat legroom is surprisingly good in the Clubman, but headroom is marginal for taller passengers.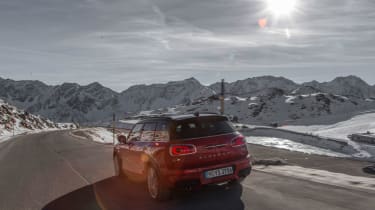 Price and rivals:
This car with the auto 'box is £30,495: A Golf R estate, DSG only remember, costs £34,455. That one sentence alone creates serious problems for the JCW Clubman and that's before you take into account favourable lease deals on the Golf. The VW may be ubiquitous in hatch form, but the estate remains a rare sight and is so much more car for the money, in every sense. Incidentally, a Skoda Octavia vRS has similar power to the Mini; vastly more load space; drives with more finesse, and costs from £26,110. Then there is Ford's Focus ST estate.. you get the picture.