Mini Cooper S
The Mini's a mighty little car and its chassis and engine a perfect marriage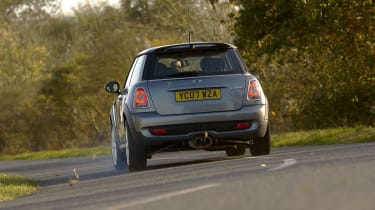 The Mini's time with us is drawing to a close and I was thinking about what overriding memory it'll leave me with, what really sums up my Cooper S experience. And odd as it may sound, the thing I'll really remember about the Mini is its massive performance. Not just its ability to cover ground at an astonishing rate (always a Mini strength), but the way it accelerates, the way it thumps into three figures with big-hearted ease. It may be quoted as having only 172bhp but it's a mighty little car.
Why does it feel so quick? Well, the turbocharged engine's flat torque-curve helps, but also manufacturers seem happy to really stretch a front-drive chassis and contain the excess power with traction and stability control systems. I drove the Mini to the office the other day, the roads still slimy from heavy rain the night before, and with ASC switched off the Cooper S was scrabbling for traction even at half throttle and needed really subtle inputs to avoid instant power understeer. It struck me that if BMW brought out a rear-driver with such an uneven torque-to-grip ratio we'd all be saying it was dangerous, but with a hot hatch we just put trust in the electronics (and very effective they are, too) or drive circumspectly.
The advantage of this willingness to put more and more power through the front wheels is that a good modern hatch – of which the Mini is probably the best – feels like it's right on the edge, pushing the envelope of what's possible. And that means it feels exciting pretty much all of the time. Crack open the throttle and the wheel shimmies in your hands; get on the power too early and you instantly feel the chassis working hard to contain what you've just dumped on the front tyres; back off and the building momentum shifts the balance decisively. That's why the Mini feels so bloody fast even if you've just stepped out of a 500bhp super-saloon – quite simply the Mini couldn't take much more power. Nor does it need it.
There are disadvantages to a car being so finely resolved, however, and one of them has been thrown into sharp relief as the roads have got more and more slippery. The Mini's run-flat Dunlops seem very resistant to wear – they're 10,000 miles old and still have plenty of life left in them – but now that the fronts have less tread remaining than the rears, the car's handling has been affected quite markedly, the neutral balance and adjustability suffering. Now it washes into understeer more quickly and even a big deliberate lift fails to get the rear swinging at anything other than very high speeds.
It leaves you wanting new tyres, but I doubt many owners would be willing to buy a new set at such an early stage. As a result, the Mini's fine chassis will be tarnished for a significant portion of any tyre lifecycle. I'm a picky git, of course, but then I expect that most of you are the same when it comes to how your car handles.
Running Costs
| | |
| --- | --- |
| Date acquired | May 2007 |
| Total mileage | 10,487 |
| Costs this month | £0 |
| Mileage this month | 898 |
| MPG this month | 31.8 |