Mini Cooper S: Mini Cooper S
Will the 'new Mini' work its charm on Jethro?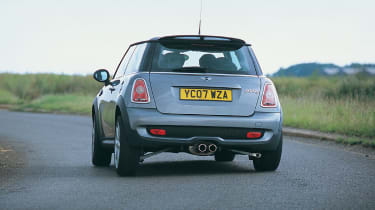 I hadn't driven the new 'New Mini' until my new long-term Cooper S turned up at Evo Towers. Looking back, it was a bold move to request a car that I had no experience of at all, but I've got lots of fond memories of the previous Cooper S and it seemed inconceivable that BMW could bugger-up such a proven formula.
That the Cooper S had just seen off a two-pronged attack from the Clio 197 and Corsa VXR in the south of France (evo 104) bolstered my confidence. However, there was a caveat built into that verdict: maybe a bit of the old car's immediacy had been lost, its steering slower, its chassis dumbed-down a little. Tiny compromises, but enough to leave a mild tang of disappointment. So why was it our winner? Well, the Clio was deemed to have a gifted chassis but was hampered by its weight and relative lack of torque, and the VXR proved quick and capable but just a bit too well behaved. So the Mini won, but the opposition's downfall was mostly of its own doing.
Hardly a glowing recommendation then, but I was still pretty excited when our Dark Silver (i.e. grey) Cooper S arrived with just 550 miles on the clock. I think I might be alone here, but I really like the new turbocharged Mini's looks, particularly when made to look a bit more serious with a subtle hue and a body-coloured roof. It's just a shame that, with the £1995 Chilli Pack fitted – which I'm sure is almost obligatory if you ever want to sell your Cooper S – plus leather and metallic paint, the price rockets from £16K to £19,015. Yep, over nineteen thousand pounds… And that's without satnav or climate control (although manual air-con is standard).
First impressions? Very positive. It rides with more composure than the old car yet has excellent body control, and I think it steers more intuitively too. True, it's not quite as pointy as the old car, but there's definitely more feel and it changes direction with that familiar inertia-free zip. The gearchange, meanwhile, is light and positive, and the new turbocharged engine is superb – torquey and smooth but with some real spark at the top-end too. You'd swear it has more than 172bhp.
Unfortunately our car was delivered with a couple of minor faults. The driver's seat-back has a centimetre or two of free play, so you tend to rock back and forth when braking and accelerating, and there's the mother and father of all rattles coming through the dash at precisely 2200rpm. It sounds like the exhaust is hitting the underside of the car. I'll get it booked in to our local Mini dealer ASAP.
Since its arrival, YC07 has barely stood still. Just a month in, it's already been to just about every airport in Britain and has even travelled as far as the Ring (Meaden couldn't bear the thought of the Panda on concrete Belgian motorways so he borrowed the Mini to deliver him to one of his VLN races). That's why the mileage is already up to 4498. Impressively, fuel consumption is hovering around the 32mpg mark – brilliant considering how horrendously thirsty the old Cooper S was.
Next month I'll let you know how it coped with a streaming wet Nordschleife and some of our even bumpier local B-roads.
Running Costs
| | |
| --- | --- |
| Date acquired | May 2007 |
| Total mileage | 4498 |
| Costs this month | £0 |
| Mileage this month | 3948 |
| MPG this month | 32.4mpg |