Mini John Cooper Works GP Nurburgring video
Mini has revealed a short video confirming the 8 minute 23 second Nurburgring lap time.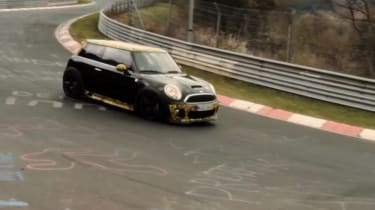 Mini first unveiled the second generation John Cooper Works GP at the Mini United event in May 2012, and has now revealed the first video of the even faster GP model.
The video shows the car on a timed lap, finishing on 8 minute 23 seconds – a full 19 seconds faster than the original track-spec Mini. It's more track-focussed than the original, with more attention placed on the overall aerodynamic package.
Read the full Mini John Cooper Works GP story here