Stare at the curls and offcuts of aluminium too long and the intertwined, perplexing forms become almost hypnotic. But more than anything else visible on the workshop floor, the bins of surplus metal illustrate that Morgan Motor Company has moved far beyond its popular image of unsophisticated ash-framed roadsters.
That and the BMW engines positioned precariously on pallets, a constant fixture since the first Aero 8 roadster debuted 15 years ago. Now they're used across the company's aluminium platform vehicles.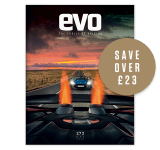 Subscribe to evo magazine
Subscribe today to have every issue of evo delivered straight to you. You'll SAVE 39% on the shop price, and get evo for its original cover price for a whole year!
Once skinned (again with aluminium) the Plus 8 and Aero models share the family look of the 'classic' wood-framed range, but unclothed they're belligerent, race-car like beasts, at odds with the furniture-shop tools found on every workbench.
They're also illustrative of the variety from Morgan – from wood to aluminium to the boat-like structure of the crowd-pleasing 3 Wheeler, a variety that stems from the diverse buyers the firm serves and the melting pot of characters who work behind the brick walls at Pickersleigh Road.
Characters like these can only be appreciated face-to-face. As can the cars themselves – so we also spent a weekend with a 3 Wheeler to better understand the car's captivating appeal.
The designer
When I meet Jonathan Wells he's in Morgan's engineering shop, rather than the design offices. 'We can't really show you in there because of what's going on at the moment…' he says with a grin.
There's plenty going on in the workshop too; when we enter, evo photographer Aston Parrott and I step between rows of covered 3 Wheelers and skinned roadsters. There's a Plus 8 development car on wooden stands in the centre of the room, and the new Aero 8 that debuted at Geneva sits partially obscured by a curtain splitting the room.
'We've been working on this for around 14 months, but we're not going into production just yet. The car's driving, and it works, but we're holding back until the fourth quarter of 2015 to complete the full test program.'
For Wells, the Aero 8 was an attempt to bring the model back to its roots – a high quality range topper that's still relatively attainable, more so than the Aero coupes' supercar-like price tags have grown to, at any rate. Does Morgan's designer have much design freedom where a marque's look is already so well defined?
'I do, yeah. There are definitely constraints, especially with carry-over parts like the front wings, and sticking to some of those eccentric shapes and forms. But I wanted to exaggerate the essence of the car. I wanted to connect the front and back with long flowing lines – it's almost like the deck of a boat. Inside it features a lot of traditional materials – wood, box-weave carpet, we've got a painted dashboard, and we've got the soft top.'
The idea then, is mixing Morgan's traditional cues with modernity. And that should continue in future – Jon says there are 'lots of exciting things to come in terms of shape and form', while celebrating traditional British craftsmanship.