Hybrid Morgans on the way in 2019
British sports car maker will introduce advanced powertrains before the end of the decade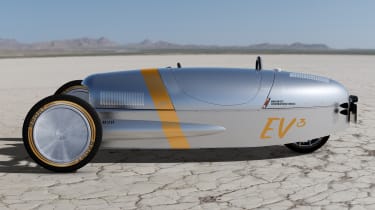 Morgan has announced a £6 million project to develop new powertrain technologies, with the aim of making hybrid propulsion available in all models by the end of the decade.
Morgan Motor Company, as part of a consortium with Delta Motorsport and Potenza Technology, will use funding from the UK's Advanced Propulsion Centre to 'develop hybrid and electric powertrain systems which will significantly reduce vehicle CO2 emissions and deliver best-in-class fuel economy.'
The consortium's funding was announced by the Government's Business Decretary, Sajid Javid, after a recent visit to the Morgan factory.
If the concept of a hybrid Morgan seems alien, it's certainly not out of the ordinary given the company's recent foray into electrified vehicles.
In 2012, Morgan unveiled the Plus E at the Geneva motor show – an electric version of the Plus 8, based upon the same lightweight aluminium platform and sending its electric torque through a manual gearbox.
Then last June, the company followed this up with the announcement it would produce an all-electric version of the Morgan 3 Wheeler, dubbed the EV3. The EV3 will be built to order towards the end of 2016, and develops just over 100bhp at the back tyre.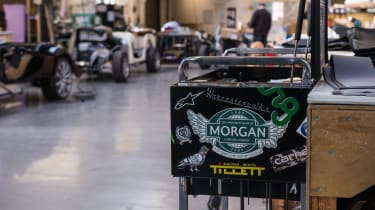 When evo visited the Morgan factory last April, chief designer Jonathan Wells extolled the virtues of working for such a small company – one relatively free of bureaucracy, where decisions can be made quickly. This corporate agility is no doubt one reason why Morgan feels confident in bringing hybrid powertrains to market in such a short space of time.
Morgan managing director, Steve Morris, describes it as a way to 'broaden the appeal of the Morgan brand and attract new customers in our key markets.'
He adds that the company is now ready 'to develop the best hybrid and electric drivetrain solutions for production implementation before the end of the decade'.