New Mercedes GLC 43 guns for Porsche Macan
Paris Motor Show debut for junior Mercedes-AMG SUV-coupe
Mercedes-Benz has added an AMG model to its junior SUV Porsche Macan rival: the GLC 43 4MATIC coupe. Set to debut at next month's Paris Motor Show, the 43 is claimed to accelerate as quickly as Porsche's Macan GTS and quicker than Jaguar's F Pace S.
The GLC 43 4Matic is powered by the same 3.0-litre twin-turbocharged V6 petrol engine fitted to the C and E43 models as well as the larger GLC SUV. The nine-speed 9G-Tronic automatic gearbox is the only transmission offered.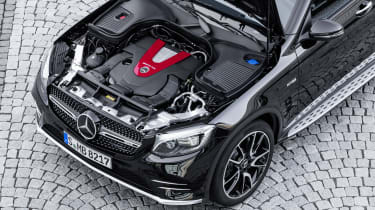 Power is quoted at 362bhp between 5500 and 6000rpm, with 383lb ft of torque available from 2500rpm through to 4500rpm. Porsche's Macan GTS 3.0-litre, twin-turbo V6 produces 355bhp at 6000rpm and 369lb ft from 1600rpm. Weighing 1780kg, the new Mercedes is 115kg lighter than the Porsche, resulting in the Mercedes reaching 62mph in a claimed 4.9seconds, three-tenths of a second quicker than the Macan GTS. Limited to 155mph, the GLC 43 trails the Macan's 159mph maximum.
>Read our Jaguar F-Pace review
The nine-speed auto gearbox features three modes: Comfort, Sport and Sport Plus, with a manual function also available. The shift speeds and have been further optimised for the GLC 43.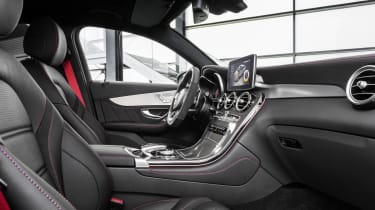 Air suspension is standard fitment on the range topping GLC, with Mercedes' Air Body Control system further optimised to suit the car's higher centre of gravity and increased weight. As with the gearbox three modes are selectable. Comfort does exactly what it says on the button with a focus on ride quality with a neutral to slight understeer handling set up. Sport mode features a harder spring rate to reduce body roll and Sport Plus modifies the spring rates accordingly front to rear. As well as adjusting the spring rates, the damper rates are also adjusted according to the driver mode selected.
Mercedes 4Matic permanent four-wheel drive system has a rear drive bias with a 31-69 torque split front-to-rear. Speed-sensitive sports steering is standard, and the brakes have been beefed up, too, with 360mm discs and 4-piston callipers fitted to the front axle.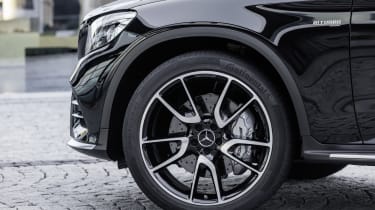 Following its public debut at the Paris Motor Show in October, the GLC 43 will go on sale in December with a £52,000 price tag.