All Aston Martins to be available as hybrids
Hybrid power will be available across the range from middle of next decade; CEO also confirms mid-engined V6 car in development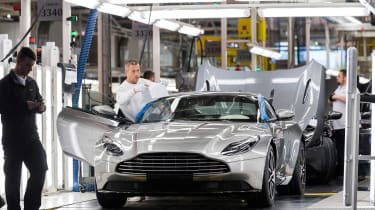 Amid Aston Martin's increasing success on the balance sheet, chief executive Andy Palmer revealed some telling details about the future of the British marque to the Financial Times in a recent interview.
In the pursuit of meeting the ever more stringent CO2 emission rules being introduced across the UK and EU, Palmer has confirmed that every model in the line up will include a hybrid option by the middle of next decade. Aston Martin has already confirmed a limited run of its first pure EV model, building a limited number of electrified Rapide-based models that should hit the road sometime in 2019.
> Click here for more on Aston Martin's upcoming EV RapidE
The importance of this EV tech was also made clear by Palmer's confirmation that this electrification has been engineered in-house, rather than outsourced to technical partners like Daimler, as the company did for the V8 that has been recently fitted in the DB11. "You need to keep core technology inside the company," said Palmer. "That's why we make our own V12 engine. We believe that EVs are a core technology, and therefore we want to do them ourselves."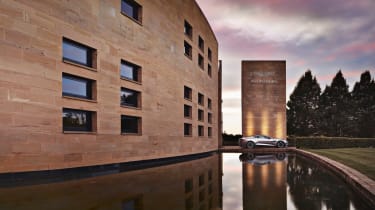 Alongside the confirmation of Aston Martin's dedication to hybrid powertrains, Palmer also let slip about a new mid-engined Ferrari 488 rival that is currently in development. Due for production after the launch of the DBX crossover in 2019, Palmer confirmed that the new supercar is likely to eschew a V12 or even V8 engine in favour of a new V6 drivetrain.
This V6 power plant will not only utilise turbocharging but could eventually integrate the hybrid elements previously mentioned, ensuring that the supercar's performance is on par with future iterations of the Ferrari 488 and McLaren 720S.
> Click here for more on the Aston Martin Valkyrie
Aside from packaging advantages, the use of a smaller capacity V6 engine will also benefit Aston Martin in eastern markets like China, which tax manufacturers heavily based on engine size.
With a renewed product line-up, the imminent release of a new volume sports car in the form of a new V8 Vantage and a mass of new upcoming product lines, the once-struggling British marque looks to have finally cleared its period of financial life support and is now set to forge ahead in its second century.