Consider the hypercar rulebook torn, void and irrelevant. We have barely had time to adjust to the standard the 'holy trinity' set just four years ago, but Mercedes-Benz and Aston Martin, two manufacturers not usually associated with the creation of industry breaking hypercars, have come to the fore to try and reset the status quo.
Both projects have been rigorously shaped by Formula One, each taking tangible elements from their respective Mercedes-Petronas and Red Bull teams, and repurposing them into two of the fastest and most extreme road cars ever seen.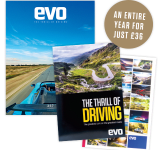 Subscribe to evo magazine
evo is 21 and to celebrate, we're returning to 1998 prices! Subscribe now to SAVE 39% on the shop price and get evo for its original cover price of £3.00 an issue, plus get a FREE gift worth £25!
> Click here for our full article on the Mercedes-AMG Project One 
The Aston Martin Valkyrie has been in the public domain for a couple of years now, initially being shown in the form of a static concept called the AM-RB-001. That nomenclature was telling, representing a new found technical partnership between Aston Martin and the Red Bull Formula One team.
> Click here for our full article on the Aston Martin Valkyrie
It was this correspondence with the Red Bull design team and specifically chief engineering officer Adrian Newey that gave such gravitas to a project that could have easily faded away into obscurity. 
The technical details sounded typically hypercar. A naturally aspirated V12 engine assisted by a KERS system and electric motor with power of 'around' 1000bhp was completely reasonable, but it was not the powertrain that had journalists and potential customers a gasp; it was the aero.
The AM-RB-001 has since been refined and renamed Valkyrie as customer deliveries draw closer, but with a new context of another F1 derived (rather than just inspired) hypercar rival in the form of the Mercedes-AMG Project One, how does the Valkyrie stack up? 
Mercedes-AMG Project One
Aston Martin Valkyrie
Ferrari LaFerrari
McLaren P1
Porsche 918
I.C Engine
1.6-litre V6 turbo
6.5-litre V12
6.2-litre V12
3.8-litre V8 twin-turbo
4.6-litre V8
Electric Motor
3x direct drive electric motors
single direct drive 

electric motor

single direct drive 

electric motor

single direct drive 

electric motor

3x direct drive electric motors
Total max power
986bhp +
986bhp +
950bhp
903bhp
875bhp
Total max torque
N/A
N/A
664lb ft
664lb ft
944lb ft
Transmission
8-speed semi-automatic
7-speed semi-automatic
7-sp dual-clutch 
7-sp dual-clutch
7-sp dual-clutch
Weight (kerb)
N/A
1000kg (est)
1585kg 
1547kg
1675kg
Power/weight
N/A
986bhp/ton (est)
599bhp/ton
583bhp/ton
522bhp/ton
0-62mph
N/A
N/A
less than 3 seconds
2.8 seconds (claimed)
2.6 seconds
Top speed
217 +
N/A
217mph (limited)
217mph
214mph (claimed)
Price (from new)
£2.07 million (plus local taxes)
£2.5-3 million (est)
£1.15 million
£866,000
£781,155
The drivetrains 
Mercedes-AMG might have been coy regarding the look of the Project One, but it hasn't tried very hard to keep the drivetrain under wraps. Unlike the LaFerrari and McLaren P1 which used F1-derived technology on existing road car power plants, the Mercedes-AMG Project One literally lifts a turbocharged 1.6-litre V6 engine from its championship winning F1 car and makes it (just about) road viable.
> Click here for our review of the Ferrari LaFerrari
Combining elements from the W06, W07 and W08 engines that powered Mercedes' F1 cars to championship wins over the last three years, Mercedes calls the engine in its Project One a 'bespoke unit', although the engineering is startlingly similar. For the sake of longevity, the power unit sees a reduction from the F1 car's redline of 13,500rpm to 11,000rpm, combining with an electronically driven turbocharger that draws on a 90kW motor to practically eliminate turbo lag. Mercedes says that despite the turbo, it has faster response times than a naturally aspirated V8.
Mechanically speaking, the Mercedes-Benz is the more extreme machine, not only employing that insane engine, but augmenting it further with two electric motors on the front axle to give the whole car a power output of somewhere above 968bhp (1000hp) and all-wheel drive traction. Connected to a bespoke eight-speed hydraulically-actuated manual gearbox, this is yet another specification in parallel with the current F1 car.  
> Click here for our review of the Porsche 918 Spyder
The Aston Martin Valkyrie in contrast uses a less complex powertrain sending power to the rear axle exclusively. Centred on an all-new 6.5-litre Cosworth developed V12 engine paired with a crank-mounted electric motor, the V12 itself should produce over 800bhp on its own which points to an electric motor capacity of around 200bhp, still impressive for a system that will be more supplementary in it's total system output when compared to the Mercedes.
Early tests conducted by Aston Martin have shown upwards of 1140bhp, but it's unlikely the road car will develop numbers quite that high. Like the Project One, the Valkyrie will use a single-clutch automated manual gearbox, this time with only seven-speeds, but will do without a reverse gear to save weight. The electric motor will provide drive for reverse manoeuvres, but as a look into the philosophy employed by Aston Martin and Red Bull for the Valkyrie, it is clear that weight saving is higher on the list of deliverables than in the Mercedes.   
The design
The Aston Martin looks nothing like any road car has before. A core philosophy has been turned on its head, and without the technical regulations of Formula One to have to work around, Newey and his team literally flipped the design on its head. Eschewing the usual groundwork-design that has formed the basis of nearly every race and high performance road car, the Valkyrie utilises a spectacular 'suspended' aesthetic, with the cabin appearing to float inbetween the wheels.
> Click here for our review of the McLaren P1
This has been made possible by the Valkyrie's unique F1-style driving position that places the driver's legs above their hip point. This 'leg up' driving position allowed Newey and his designers to base the entire aero package around two enormous Venturi tunnels that run along the floor of the car. Instead of a ground-scraping nose, the Valkyire's instead sits high off the ground, with a drop down front spoiler creating downforce over the front axle and directing air to strategic points further back under the car.
This lifted aesthetic continues down the car's smooth, Aston Martin designed flanks ending in the tail, which seems to be only inches thick. The wing is the only mechanised aerodynamic feature says Aston Martin, trimming its position based on the car's aero parameters. 
The Mercedes-AMG Project One by comparison is more orthodox in its approach to aero. Keeping styling to one side for a moment, the Project One could easily be a direct successor to the CLK-GTR homologation road car from the late 1990s. The aero package doesn't look as innovative as the Valkyrie because it is not. A normal flat-floor and rear diffuser complement a huge moveable rear wing and front splitter, while above the front wheel arches sit active vents which open to reduce air pressure in the front wheel wells.
Unlike the Valkyrie, which is fed by intakes hidden on its underbelly, the Mercedes' power unit is fed through a massive F1-like snorkel that sits above the cabin. This then contorts into a fin assisting longitudinal stability at speeds.
At the very rear, the wing not only raises and lowers, but also segments into an airbrake. The open rear end is designed to dissipate the substantial heat generated by the power unit, but does without the sail-boat taper of the Aston Martin.
For every technical extreme brought in by the Mercedes' powertrain, the Aston Martin fights back with its more extreme body. It is this, and the Mercedes-AMG's expected weight disadvantage that could prove to be the biggest difference between the two cars when they hit the road and track later this year. 
Where next?
The importance of outright speed is ever present, but somehow not as crucial as it would have been in the past. We are reaching the limits of what internal combustion power units will produce with these two cars, leading industry innovators like Adrian Newey to work around the contemporary limitations IC engines exhibit. Although Aston Martin's relative lack of technological punch might seem to put it at a disadvantage compared with the Mercedes, it is Adrian Newey and the innovation that he has brought to the Aston Martin's entire package that pushes the boundaries furthest.
There is nothing more we can say until Aston Martin releases concise figures for the Valkyrie and we get both on the road and track, but consider this; Mercedes-Benz may have won the last three F1 world championships due to its class leading power unit, but Red Bull under the leadership of Adrian Newey won the four before them without.
Regardless of who you think will push the game further, it's a great thing to be faced with two cars that make the LaFerrari, McLaren P1 and Porsche 918 look positively underwhelming in comparison. It will be quite the twin test next year when we pitch the two together, but at the risk of sounding like a broken record, we just don't know where they can go from here.