Buy a copy of evo 157 in our online shop
Subscibe to evo electronically on Zinio here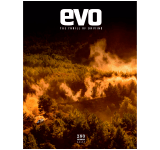 Subscribe to evo magazine
Subscribe today to have every issue of evo delivered straight to you. You'll SAVE 39% on the shop price, and get evo for its original cover price for a whole year!
Try evo Magazine's new iPad app here
NewsStill worried about what Lotus is up to? So are we, so Harry 'Donal' Metcalfe has been to Hethel to find out. Elsewhere, BMW has unveiled a very cool lightweight M3 saloon concept…
DrivenLots of new performance cars go under the evo microscope, including the Ferrari FF, Ariel Atom Mugen, Caterham Supersport, Range Rover Evogque and a Superships tuned Renaultsport Megane 250
LettersThe McLaren MP4-12C debate rages on. Richard 'Understeer' Porter gets a dressing down about front-wheel drive too
Biography of the turboWhere did all the huffing and puffing, chirruping and tweeting begin? John 'Boost' Barker has the answers
The Cult Of The Turbo: GT2 RS v F40 v XJ220 v Noble M600Leading our turbo celebration, four of the most exciting turbo cars ever created. Two of them are hot off the production line – the new Noble M600 (now with carbon body) and Porsche 911 GT2 RS – the other two are icons of the supercar dynasty – the XJ220 and the Ferrari F40. Chris 'TV' Harris nails the throttle in all four and waits… Preview video here!
900bhp GT-RWe couldn't possibly have a turbo celebration without including a nutty Nissan GT-R. This one's called Thor and has 900bhp. David 'Thunder' Yu drives it
Turbos in motorsportTurbocharging has created some memorably terrifying competition cars. We talk to the heroes that tried to tame them
930 Turbo v R32 GT-R v Escort Cossie v Ghibli Cup v R26.RTurbocharging hasn't just made supercars exciting. Richard 'Skilz' Meaden takes us on a journey through five laggy, but definitely not leggy, cult turbo cars
Future turbosThe new BMW M5 is going to be turbocharged and so are some very exciting cars from Alfa, Saab and Audi. We tell you what to expect
Red VictorA 1972 Vauxhall Victor with a pair of turbos the size of satellite dishes. Andy Frost's legendary creation is getting even madder  The thrill of driving in 1911The Vauxhall C10 was Britain's first sports car. Henry 'Whiskers' Catchpole dons the tweed and takes a step back in time
Long-term testsWe wave a fond farewell to the M3 this month, while a 911 has been having its rear end lightened
Me and My Car: David Brown and his Jaguar E-typeWe assume it's irony that he owns a Jaguar rather than an Aston. He certainly uses his E-type, though
Buy a copy of evo 157 in our online shop
Subscibe to evo electronically on Zinio here
Try evo Magazine's new iPad app here