Forza Motorsport 5 news and trailer
Forza Motorsport 5 - a launch title on the new Xbox One console - will rival Gran Turismo 6 on the PS3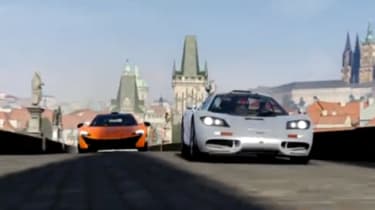 A week after Gran Turismo 6 was confirmed by Sony, Microsoft has pulled the wraps off its arch rival driving simulator, Forza Motorsport 5.
While GT6 is a Christmas release for the soon to be replaced Playstation 3 – initially eschewing the next-generation PS4 – Forza 5 will be a headline launch title on the all-new Xbox One console, released later in 2013. It's actually the sixth Forza title, following Forza Horizon's 2012 release.
Few details are yet available on the new racing game, though the trailer video (which you can see below) gives us a good inclination that realism is very high on its agenda. It shows a gruelling battle between a McLaren P1 and its F1 forebear, with some photographic detail when it comes to the tortured rear tyres, carbon diffuser and exhaust flames. Consider our appetite whetted.
Forza Motorsport 4 review here