It's 15 years since Nissan Launched the 350Z and writing these words makes me feel rather nostalgic. Not just because I used to run a Zed on the Fast Fleet, but because we're unlikely to see its like again. Who today would launch a small coupe with a brawny, 276bhp 3.5-litre V6, manual gearbox and indulgent rear-wheel drive, all for the price of a basic TT?
The 350Z was launched first in Japan and the US, and it was a year later, in the late summer of 2003, that we finally got the European-spec model, its suspension reworked by the team at the Nissan Technical Centre Europe, based at Cranfield, Bedfordshire. So good was this setup that Nissan adopted it for all Zs from that point forward.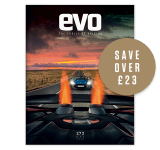 Subscribe to evo magazine
Subscribe today to have every issue of evo delivered straight to you. You'll SAVE 39% on the shop price, and get evo for its original cover price for a whole year!
In the UK it was keenly priced at £24,000 for the basic model, though most buyers forked out the extra £2500 for the GT Pack, which included an uprated Bose hi-fi, cruise control and electrically adjustable heated leather seats. A further £1000 added the Z's signature forged 18-inch Rays alloys, which not only looked good but saved 4kg per corner.
In March 2005 the Roadster arrived, and three months later came the limited-edition GT4. It boasted an extra 20bhp, lifting peak power to 296bhp, and though peak torque was slightly down, it had a flatter torque curve, so it felt more muscular through the rev-range. For £29,500 you also got a colour choice of black or retina-searing Ultra Yellow Pearl, unique Rays alloys and (full nostalgia-mode engaged) a gift-box containing a PlayStation 2 console and a copy of Gran Turismo 4. Just 176 were sold in the UK, but the uprated engine was carried over to the regular Z for the 2006 model year.
The biggest round of changes, though, came for 2007. The V6 was re-engineered, the new HR (for High Response) unit revving to a heady 7500rpm and feeling good for every one of its 309bhp – we recorded 0-60mph in 5.5sec. The process of reducing the weighting of the steering, clutch and gearshift that began with the 2006 car was also continued, making this the sweetest of the lot.
As more new cars are powered by small-capacity turbo engines joined to paddleshift gearboxes, a big, lusty, naturally aspirated V6 driving the rear wheels through a manual 'box is surely only going to seem more appealing. There are too many Zeds around for values ever to really fly, but well-cared-for cars are edging upwards. Here's how to bag a good one.
> Click here for our Nissan GT-R review 
Specifications (HR version in brackets)
Engine
V6, 3498cc
Maximum power
276bhp @ 6200rpm(309bhp @ 6800rpm)
Maximum torque
268lb ft @ 4800rpm

(264lb ft @ 4800rpm)

Transmission
Six-speed manual, rear-wheel drive
Tyres
225/45 R18 front, 245/45 R18 rear
Weight (kerb)
1525kg (1532kg)
Power-to-weight
184bhp/ton (205bhp/ton)
0-62mph
5.9sec (claimed) (5.5sec tested, 0-60mph)
Top speed
155mph (limited) (limited)
Price when new
£24,000 (£26,795)
Checkpoints
Engine and transmission
The original engine is known as the DE. This was revised in 2006, when the power went from 276 to 296bhp, then comprehensively re-engineered to make the 309bhp HR version that ran from 2007.
Scott Fairman at Abbey Motorsport says the HR was greatly improved, both in terms of performance and robustness. The main issue with the early engine is that it burns oil. Because the catalytic converters do such a good job, you might not spot smoke from the exhausts, but check anyway.
The piston rings are the weak spot . By the time the oil light comes on, damage has probably been done. Abbey is gearing up to supply complete exchange engines, the cost expected to be £4000-5000. Most Z engines burn at least some oil, so the first thing to check is the oil level and, if you're buying privately, quiz the owner.
> Click here to see evo's best sports cars 
Exhausts split near the junctions with the cats, so listen for blowing. A replacement back-section can be a grand or more. The biggest service is at 54,000 miles and costs around £500.
Transmission
Clicking from the rear axle is a common issue with the driveshaft joints. It shouldn't require replacements – many owners have found that unbolting the shafts, greasing the splines with heavy-duty grease and torquing the nuts back up cures it . It's a fairly simple task that a competent home mechanic can do, or a quick job for a specialist.
Clutch replacement is likely to be one of the major expenses you'll face – a clutch kit and flywheel are around £600, with labour adding a couple of hundred to that , so beware any juddering or slipping. With typical use they should last around 40,000 miles.
> Click here to see our Audi TT review
Suspension, steering and brakes
Knocking from the front suspension almost certainly means the bushes in the lower compression arms need replacement . It's a common issue. Genuine Nissan bushes are around £250 per side, plus about an hour or so's labour, but many owners take the opportunity to upgrade to poly bushes, which last longer and also sharpen the handling. If the car is fitted with OEM 18in wheels, the tyres should be 225/45 front and 245/45 rear, evenly worn across the tread. Most experts recommend sticking with the OE Bridgestones.
Body, interior and electronics 
No serious rust issues as yet . Check the A-pillar and around the edges of the windscreen for any signs of rust , which could indicate a bodged windscreen replacement. Check the doors don't drop when you open them. Conversely, the windows should drop slightly on opening. On the coupe, check the hatchback opens cleanly and the struts support it easily – and that the boot is completely dry. If the fuel-filler cap doesn't ping open, it could mean an actuator has failed. Also check the headlight lenses are clear. Interiors are fairly hard-wearing – only the driver's seat bolster might show much wear – so be suspicious of a tatty cabin. Check all the warning lights go out – ABS and airbag lights could require costly rectification.
Parts
Prices from www.abbeymotorsport.co.uk. Tyre prices from www.blackcircles.com. All prices include VAT but exclude fitting charges and are correct at time of publishing. 
| | |
| --- | --- |
| Tyres (each) | £110.77 front, £130.18rear (BridgestonePotenza S001) |
| Front pads(set) | £70 |
| Front discs(pair) | £150 |
| Clutch | £240 |
| Exhaustcatalyst | £580 |
| Exhaust(cat-back) | £839 |
Servicing 
Prices from www.abbeymotorsport.co.uk, including VAT. Prices for HR engine in brackets. Service due every 9000 miles or 12 months, whichever is sooner. Order is P1, P2, P1, P3, then repeat. All prices are correct at time of publishing. 
| | |
| --- | --- |
| P1 service | £185 (£185) |
| P2 service | £265 (£304) |
| P3 service | £320 (£359) |
| Sparkplugs (dueat 54,000miles) | £128 (£227) |