Nissan 350Z (2008)
It's one of our all-time favourite rwd cars, and you could be driving one for as little as £13K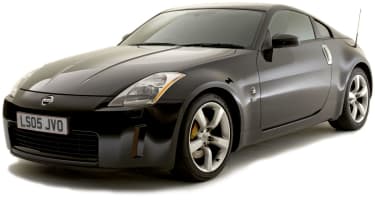 It would be something of an understatement to say that we're fans of the Nissan 350Z. Not only have we waxed lyrical about the three different versions that we've run on our long-term fleet over the years but we even spent a season racing one. Always the entertainer, particularly when compared with its greatest rival, the Audi TT, it's the Zed's combination of a fluid, balanced rear-drive chassis, lusty 3.5-litre V6 and neat coupe or convertible body that floats the evo boat. But its appeal doesn't end there, because it has always been great value for money too.
Of course, we've not been the only ones to notice this performance bargain; sales of the 350Z have been strong ever since it landed in Europe back in 2003. Yet crazy as it may seem now, Nissan very nearly didn't bring the car here at all. It was originally intended purely for the Japanese and American markets, and the decision to invest in developing a European version came only at the very last minute. The firm residuals that we see today, however, bear testament to how wise a move that was. Despite it having been around for five years now, you'll still be hard pressed to find a good 350Z for less than £13,000.
Why are the prices holding up so well? Because it's not just the cool looks and rewarding dynamics that have proved such a hit – rock-solid reliability comes as part of the package too. There are very few issues to worry about with a 350Z. Find a clean-looking, fully ramped and stamped example and it's hard to go wrong. You could easily buy one, enjoy a couple of years' trouble-free, relatively expense-free fun and then sell up without suffering a large loss in depreciation.
Thing is, you probably won't want to sell, as it's hard to find a true rival for this car.
EvolutionThe Japanese and American markets had been enjoying their 350Zs for some time before the UK got its version in the autumn of 2003. Available from the outset, the £2500 GT pack was selected by many owners and is well worth seeking out today – it commands a premium of just £500 on an early car but adds leather, cruise control, electronic seat adjustment and an upgraded Bose stereo system. The other main option was a £1200 satnav system, but this is less frequently seen.
The special edition GT4, also known as the 35th Anniversary Z, arrived in June 2005, boasting beautiful Rays alloys and, thanks to revised pistons and camshafts and remapped exhaust-valve timing, an extra 20bhp. Only 176 of these were made, but it was a significant model because it broke away from the Japanese-market ceiling of 276bhp and heralded the use of this engine in all Zeds a year later.
The Roadster joined the line-up in the spring of 2005 and, while some purists may scoff, the loss of the hard roof and the gain of 75kg did little to blunt performance, ride quality or handling. It takes just 20 seconds to lower the soft-top electronically (after you've popped the catches), so if you want to gain a tan while driving, the Roadster is worth searching out.
Finally, last year the 350Z received its first major overhaul, with a reworked chassis, an 80 per cent new engine (now delivering 309bhp) and subtly revised looks, but as these cars are still virtually new there are very few on the second-hand market.
Driving one today