Nissan 370Z facelifted
The updated 370Z has been revealed, with an updated look and a better quality interior finish.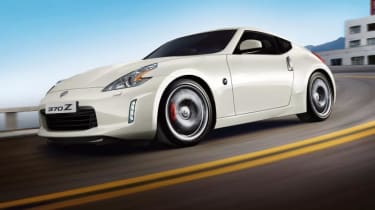 Nissan has announced that it will be launching a facelifted 370Z at the Paris motor show. The updated car will include an updated softer looking front bumper, now with integrated LED running lights for both Coupe and Roadster models.
A new set of wheels and colour options will also be added to the 2013 model line-up, and Nissan has improved the interior finish. There are no mechanical alterations under the skin – meaning the Zed will retain its 322bhp 3.7-litre V6, and the 5.4sec 0-62mph time and 155mph top speed remains the same.
The 370Z has been in production since 2008, and this is the first refresh the model has had - although the same modifications were rolled out in the USA back in February.
Pricing details have not been announced but it's likely the basic price will remain the same at £29,975. More details will be available following the car's official launch at the Paris motor show.