"Cars are often nicer if you don't try to be such a hero about it"
Didn't go for air-con? You'll only notice when you're sweating rivers, says Porter, who doesn't buy into all this options-list machismo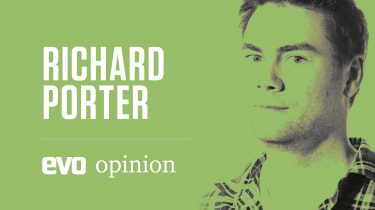 The two greatest scams of the last 20 years are that chap in Nigeria who wants to put vast cash sums into your bank account and the Peugeot 306 Rallye.
The Nigerian email con you'll probably know. You might even have wondered why it seemed to run and run before realising with a chill that the perpetrators wouldn't have done it if it didn't work at least once, which in turn means there must be some very dumb people out there.
Since you're reading evo, you probably know about the 306 Rallye, too. In case you don't, it was a version of the sensational 306 GTI 6, stripped of its air conditioning, electric windows and sunroof to deliver a 16-kilo weight saving.
Buying a Rallye was a way of saying, 'I'm quite prepared to be sweaty and inconvenienced because I truly care about driving.' In all mechanical ways, the Rallye was identical to its better-specced sister and if you claim you can feel the dynamic difference brought on by that slight reduction in mass I'm afraid you're talking bollocks.
> The greatest limited edition cars ever sold
Although Peugeot at least had the good grace to charge less for the 'hardcore' version, it remained an artful scam designed to trap people who thought they should suffer for their helmsmithery whilst steadfastly pretending they could detect a weight difference that would be cancelled out by having a fat toddler in the back.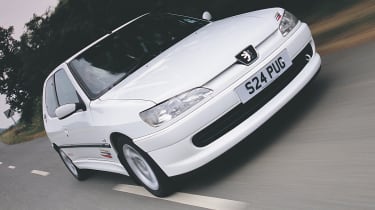 The 306 Rallye was only sold in the UK and we Brits seemed to fall for the scam, earnestly believing this was the pick of the range. But it wasn't. The full-spec GTI was a terrific car and suffered not one bit from having modern conveniences. The advice for anyone considering both cars should have been: don't be a hero.
See also, anyone thinking of speccing a hardcore Porsche without air con and a stereo. Such order-form bravado might make you feel like you love driving more than the next man in slender racing booties, but I can be pretty sure you'll never feel one iota of difference in the car's dynamic range because of the bits you left off. But you will feel hotter and more bored in traffic.
Tempting though it is to show off your furrow-browed wheelman's credentials, and goodness knows Porsche encourages you on certain models by replacing the nose badge with a sticker as if that makes a damn bit of difference, it's really not worth trying to be a hero.
See also, people who instinctively stick multi-mode suspension into the Sport setting even though a) in many cars it only makes everything worse and b) they're driving to Sainsbury's. Such misplaced heroism is surpassed only by a former evo staffer I once saw disabling the stability control on a small BMW even though he was only driving it 500 yards from one car park to another.
I know we like to think we could all flick out the tail at a moment's notice and then catch it with a minimalist twitch of the wrists, but if you're doing mundane stuff there's really no need for such faux heroics.
Which brings me to one of the hardest don't-be-a-hero moments in modern cars – the manual gearbox. I like a manual gearbox, you probably like a manual gearbox. A good manual gearbox is a very lovely thing. The do-it-yourself shift in the latest Porsche Boxster, for example, is so precise and so mechanical that you could feel no more connected to a vital piece of the car if you plunged your hand into the 'box itself and moved the cogs around with your fingers. And yet, if I was ordering a Boxster I'd have to think very, very hard about which gearbox I went for.
I like driving and I like the feeling of changing gears myself, but if I was going to use the car in every circumstance, including the coagulated shuffle through the arteries of a city and those late-night, gummy-eyed drives home when you just don't feel like playing, I'd remember that there's no need to be a hero about this. So I'd mumble and procrastinate and then I'd order the paddleshift. Sorry.
In a mythical world where every journey is completed on open, flowing roads I'd have the manual. I'd firm up the dampers and disengage the ESP. I might even try to convince myself that I should have deleted the air con and the stereo and ordered some sports seats so aggressive every trip feels like being hugged by a skeleton, and that I would be able to feel the benefits of these decisions, but even then I'd be deluding myself. Cars are often nicer if you don't try to be such a hero about it.
Of course, you may disagree. And if you do, my cousin in Nigeria would love to have a word with you.
Richard Porter is the man behind Sniff Petrol. Read more of his musings by clicking here...