'The ritual of looking at cars was one of the great spectator sports of my childhood'
Dickie harks back to a time when hunting down second hand cars was a Sunday ritual rather than an open tab on your browser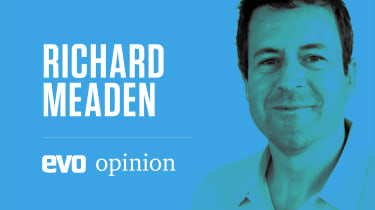 When did you last walk into a car dealership? Not one of the glossy manufacturer franchises to look at a brand new 911 Turbo or DB11 you can't afford, but a proper used car lot? Nope, I can't remember either. 
Like most things in the digital age, actually going out and looking at cars has been replaced by trawling the online classifieds. No need to travel, no need to talk to the car salesman and no chance of coming home with something you really shouldn't have bought. A harmless and risk-free distraction from the daily grind.
Shame, I say. Don't get me wrong, I love browsing for cars online. Moderns. Classics. Competition cars. Yank stuff. You name it, I've drunk endless cups of coffee looking at it. The funny thing is, all those hours (more like months, probably!) have resulted in only one purchase: my Peugeot 106 Rallye, bought back in 2009. If I had the means to indulge with any frequency I'm sure I'd have a barn full of daft impulse purchases, but there's something about the process that feels a bit empty.
Of course there are old-school dealers out there offering eclectic and unpredictable cars, but because they all have websites there aren't any surprises. If you're serious, you trawl the 'net, create a shortlist, then head to your favoured dealer or private vendor with your mind pretty much made up. You're going with the purpose of purchasing, unless the car isn't as advertised. Think back to how looking for cars used to be and you'll hopefully see why the modern method is convenient, but coldly detached.
> Click here for our best used car deals 
For me, the ritual of looking at – and occasionally buying – cars was one of the great spectator sports of my childhood. I can even recall the smell: a mild waft of petrol fumes mixed with the sweet, solvent-rich aroma of Simoniz wax. And, most likely, a freshly lit cigar. This was the unmistakable scent of my dad's favourite second-hand car dealership – a small independent place in Molesey (on the outskirts of Greater London) owned by a bloke called Johnny Maguire.
This was in the mid- to late-1970s, when I was an impressionable nipper and car dealers were one-man bands, not faceless groups or vast retail supermarkets. Looking back it was something of a Saturday ritual for the Meaden family: go shopping in Kingston then, by some stroke of navigational cunning and paternal genius, just happen to drive past Maguire's showroom on the way home. 
Without question this was my dad's analogue equivalent of browsing PistonHeads or Car and Classic. The inventory was a bit more limited, but the process and sense of anticipation was certainly the same. Sometimes a cursory drive-by was all that was required, but more often than not the modest showroom frontage contained something that piqued my dad's interest. And doubtless sent a wave of despair rising in my mum's chest.
As a young, car-obsessed kid, walking into that showroom was always special. There was a palpable blokey significance to it, even to the otherwise innocent six-year-old me. Inhaling that unmistakable smell was worryingly narcotic, and while my dad zeroed-in on his next car, I sat in others – mostly fun old Brit stuff like Triumphs and MGs, and the occasional Jag, or perhaps something exotic like a Fiat 124 Coupe or Bertone Alfa GTV.
The best part was when my dad showed sufficient interest and Johnny offered a test drive. Not the work of a moment, as moving cars around his cramped showroom was akin to playing Tetris, but the opportunity to ride in a new car – or at least an old car new to me – was something to relish. I'm not sure why, but whenever I think of those test drives it's always a Scimitar GTE that I remember most clearly. It was a cool and quirky car, a mix of shooting brake and sporty coupe built by the same firm that made Del Boy's three-wheeler. Despite my and Mr Maguire's best efforts, Dad didn't buy it, but I do recall a good old hoon along the A3, gruff Ford V6 snarling away beneath the fibreglass bonnet.
Why the trip down memory lane? Well, it's been a very long time since I accompanied Meaden Snr on a mission to a dodgy second-hand car dealer's, though I know he still has the urge. I suspect the recent purchase of 'Kanye' – Mrs M's brilliant but high-jeopardy 140k-mile Range Rover – may also be to blame, the process somehow stirring a regressive Meaden second-hand car gene into life. It's a potentially ruinous development, but one I'm also rather pleased about. Searching for cars has become so slick and impersonal there's something exciting about virtual tyre kickers like us getting out and reconnecting with this once-common and rather wonderful ritual. Just don't hold me responsible for what you drive home in.
Find more evo opinion though the links below...